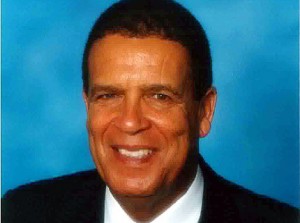 Sir John Swan will be formally inducted as Bermuda's newest national hero, Premier Michael Dunkley announced today, saying that "Sir John's significant involvement, participation and leadership in the business arena, the world of politics and helping our community make him most worthy of the designation of a National Hero."
Premier Dunkley said, "As you are aware, on June 20th we will be celebrating National Heroes Day. Since its inception in 2008, we have honoured some incredible Bermudians.
"Bermudians who have made significant contributions to our Island… lasting contributions that have shaped Bermuda's history and made our Island what it is today.
"As a reminder, our list of National Heroes include: Dame Lois Browne Evans; Dr. Pauulu Kamarakafego; Dr. Edgar Fitzgerald Gordon; Sir Henry Tucker; Mary Prince; Sir Edward Richards; and Gladys Morrell.
"And today I am genuinely delighted to announce that on June 19th there will be an addition to this distinguished list of Bermuda's National Heroes, a man who has undoubtedly done so much for Bermuda and Bermudians.
"Ladies and gentlemen, I'm referring to the Hon. Sir John W. Swan, KBE, JP.
"On Sunday June 19th Sir John will be formally inducted as a National Hero during a ceremony at Camden. Sir John's contributions have significantly shaped Bermuda and its development.
"His impact has been of such a magnitude that it is still being felt to this day. He has been recognized not only locally but internationally as well.
"Sir John W. Swan KBE, JP is a real estate developer, a political luminary, a philanthropist, and the longest serving Premier of Bermuda.
"Known and respected for his entrepreneurial mind, Sir John began his business career in real estate in 1962, when he founded John W. Swan Agency.
"Through this business venture Sir John was able to help many Bermudians achieve their dream of home ownership because his company developed so many houses.
"Some of his other noteworthy accomplishments include him becoming a founding member of the Bermuda Monetary Authority; Director of the Bermuda Chamber of Commerce and a Director of the Bermuda Employers Council.
"Sir John's political career began in 1972; and it spanned 25 years of active and relentless service to the people of Bermuda.
"He demonstrated tremendous expertise during his tenure holding many portfolios including Minister of Marine and Air Services from 1975 to1976; and Minister of Immigration and Labour from 1976 to 1982.
"Sir John became Premier of Bermuda in 1982 and served in this capacity for 13 and a half years.
"One of his most significant milestones during his political legacy was achieved in 1986, when he pioneered the negotiations of the USA/Bermuda Tax Convention to completion.
"This agreement resulted in the development of the insurance and reinsurance industries and established the island as a major offshore financial centre; thus creating a foundation for the island's stable economy, and well-developed infrastructure and regulatory framework.
"Sir John's contributions have been profound; moreover he embodies the criteria that had been established under Bermuda's National heroes Guidelines to help determine national heroes.
"According to these guidelines individuals [or groups] must meet most of the following criteria:
The person must have made a significant and lasting contribution to Bermuda;
The person has enriched the lives of others;
The person's legacy will stand the test of time and have continued relevance in the future;
The person has contributed to the quality of life and destiny of Bermuda;
The person is considered outstanding in their area of activity;
The person has ready name recognition among the general public;
The person is recognized by his/her profession; and
The person is reflective of Bermuda's cultural heritage and diversity.
"There is no doubt that the Hon. Sir John Swan KBE, JP, fits the above criteria.
"The nature of a person's contribution to the development of society is the benchmark against which persons ought to be selected.
"Sir John's significant involvement, participation and leadership in the business arena, the world of politics and helping our community make him most worthy of the designation of a National Hero.
"I invite everyone to join us on Sunday 19th June 2016 at 4.00 p.m. on the Camden grounds when we induct Bermuda's newest national hero – the Hon. Sir John W. Swan KBE, JP."
Read More About