International designer Evelyn Lambert graced the Bermuda Fashion Festival's red carpet and runway a year ago, and her 2016 Spring Collection is promising to have spectators "marvel at the change of pace" brought by her new look.
The Zimbabwe-born designer, raised in London, is now a New Yorker, having worked there for more than 20 years, a fact evident in her runway scene, where her take on fashion is all about "comfort, flexibility and real world fashion."
Ms. Lambert said, "I live in heels and I've developed this big crush on sneakers lately. I have this whole concept with shoes and so I ask for the shoe sizes of the models who walk for me." Shoes are clearly an important part of an outfit."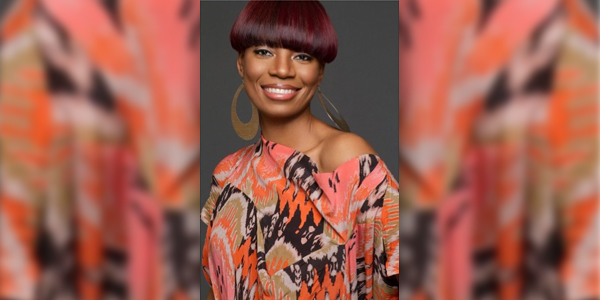 Ms. Lambert is promising the Bermuda audience real choices, "whether you're going to the art gallery or a gala," saying, "Women have a lot of things going on in their life and I want them to be able to shop my brand whether they want to look glamorous at work or on the beach."
The Bermuda audience will get a sneak peak of Ms. Lambert's 2016 Spring Collection, which will be expanded and shown at September's New York Fashion Week, as well.
Ms. Lambert said, "I took one woman – myself – you can't put me in one box and I have a lot of aspects, just as all women do. I don't have just one style; I wake up and put on what I feel like. If my heart is dancing that's what I'm wearing.
"The way the climate is changing, people want to be more comfortable now and I incorporate that into this collection.
"What I noticed about Bermuda is that people are relaxed, it's about comfort in a very humid environment, so the fashion itself has to be something that works for that climate. I noticed that locals look chic; there's a great sense of national style."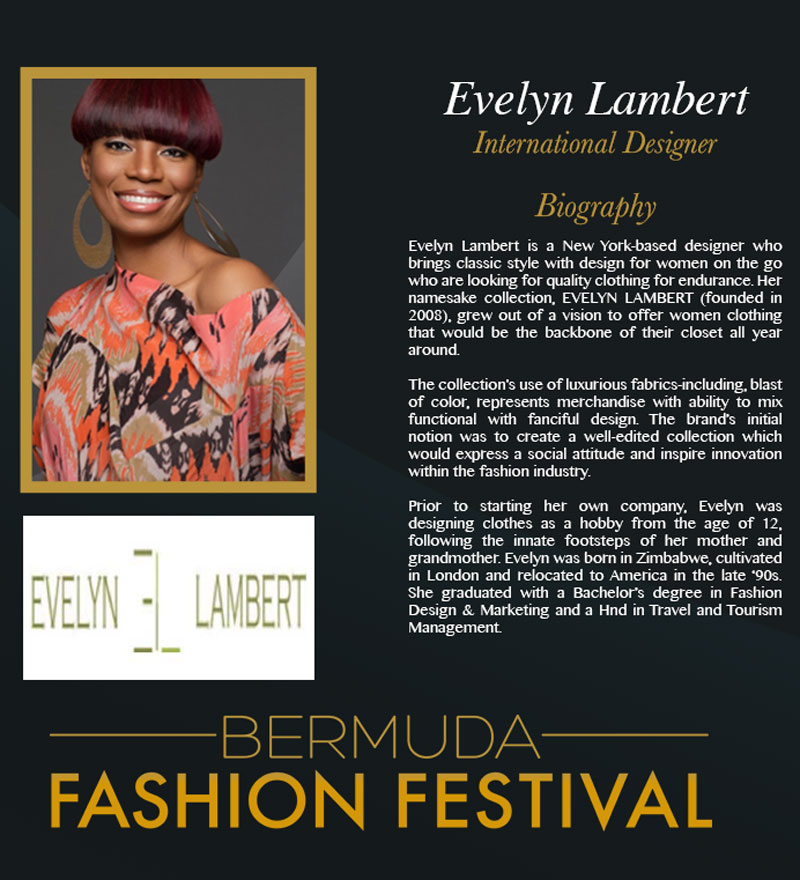 A spokesperson said, "Evelyn Lambert is one of four international designers from Bermuda Fashion Festival exhibiting fashion as art at Bermuda National Gallery's Bermuda Collection and the Bermuda Biennial 2016 exhibition. On display is a deep red full-length gown with plunging neckline and suggestive lace that is glamorous, elegant and chic.
"She goes back to her roots with this piece and demonstrates her penchant for designing clothing that compliments a woman's figure."
"I always think of the lady in red who makes a statement upon entering a room and is noticed when she exits. It took me a while to find the perfect lining that gives the illusion that the dress is transparent when it's not.
"I normally don't include a lot of eveningwear in my collection but this year I'm going back to my roots of Fall 2008. This collection made me really, really happy; I couldn't even explain it.
"If you want to stand out you have to do something different, you have to put something personal out there. When I see something similar to what I am already working on, and it happens plenty of times, I scratch it. You can get inspiration from others but you have to make it your own."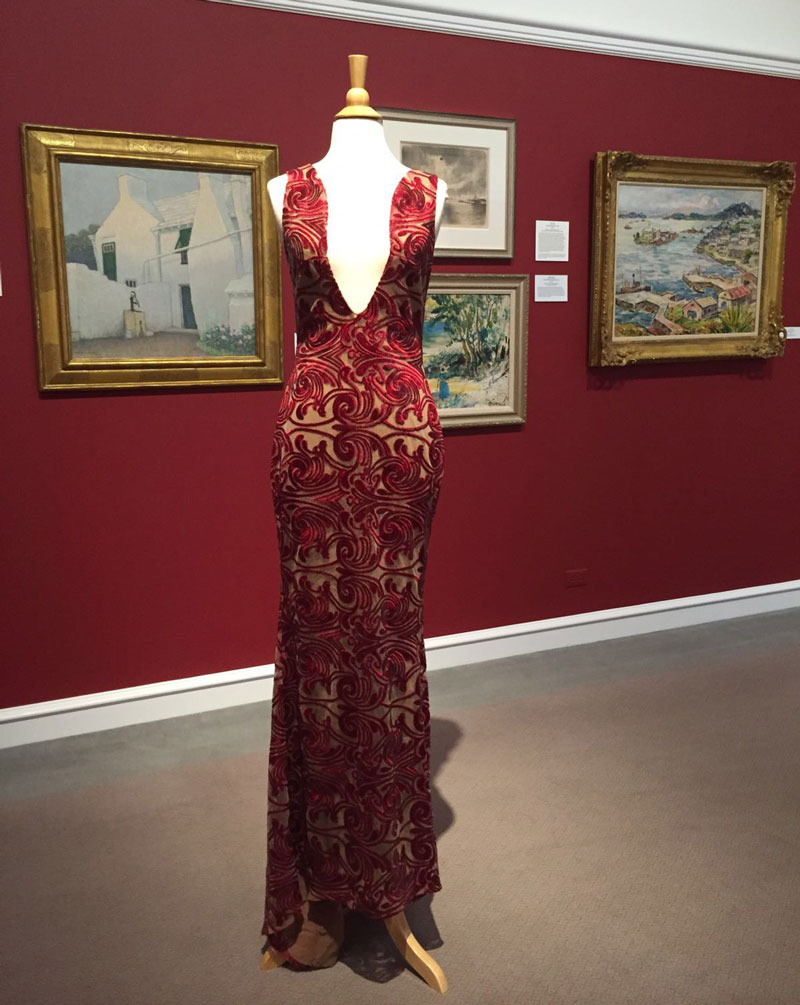 "Find a mentor, someone who you can always turn to, someone who is already where you want to go. Pay attention to their every move. Know which brands you want your clothes hanging next to in a store and then give that designer a call; ask them questions and ask for guidance.
"Passion – you need to love it, breathe it and sleep it. Success requires continuous effort. In fashion if you disappear for even a short time, you lose your following because there are so many designers out there."
"This year is the first year for Evelyn Lambert in production; until now her designs were strictly made to order. Follow Evelyn Lambert on Instagram at evelynlambert27.
"The Bermuda Fashion Festival, produced by the City of Hamilton, will be held from July 10 to July 16 and includes designer pop-up shops and a trunk show hosted in various Hamilton locations. Attracting international designers, models, celebrities and media from the US, Caribbean and UK, the Festival is in its seventh year.
Tickets are now on sale via ptix.bm/bff and from City Hall offices. The schedule of the full week can be seen online.

Read More About
Category: All, Entertainment, News, Style & Beauty