[Updated with video] The police responded to the Middletown area a short while ago this afternoon [June 8], and a heavy police presence can currently be seen in the area, and crime scene tape is visible on the scene. Further details are limited at this time, however we will update as able.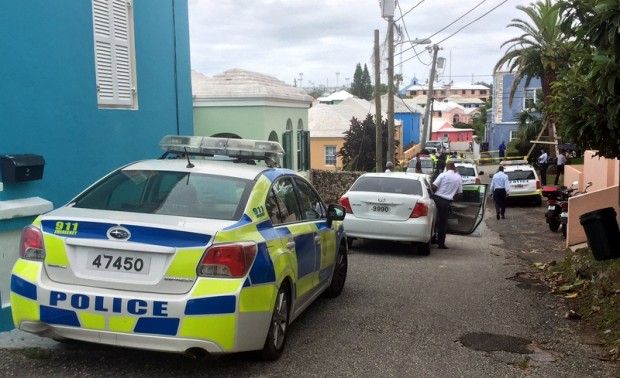 Update 4.27pm: The police have confirmed that it was a shooting in the area, and one person has been injured.
Update 4.32pm: The police confirmed the shooting took place at around 3.20pm, and a 21-year-old man has been injured, receiving what the police said were "multiple gunshot wounds."
Update 4.49pm: Video statement from Police Media Manager Dwayne Caines
Update 4.54pm: A police spokesperson said, "Around 3:27pm this afternoon[8-Jun], police responded to a report of an incident that took place in the Middle Town Pembroke area.
"Upon police arrival it was ascertained that a lone male on a white motorcycle travelling down Middle Town Drive opened fire a 21-year-old Pembroke male. The victim was taken to King Edward Memorial Hospital via private vehicle, where he is being treated for gunshot wounds.
"The area has been cordoned off and the scene is being processed by the forensic support department. An active investigation has commenced under the direction of Acting Inspector Dean Martin of the Serious Crime Unit.
"Police are appealing to anyone who may have information regarding this incident to call the Serious Crime Unit on 247-1285 or the confidential Crime Stoppers hotline on 800-8477.
Read More About