The Bermuda Netball Summer League Season continued at the Bernard Park Netball Courts with four games on tap.
The Stars defeated PHC 27 – 19, Eshe Grant led the Stars with 17 goals, while Rebecca Conklin added 10 goals. PHC got 10 goals from Vernicka Symonds, 7 goals from Jennifer Simmons and 2 goals from Tyra-Lynn Simmons.
Teachers got the better of the Signworx Netts Juniors 36 – 11, both Debbie Deshields and Danielle Raynor scored 18 goals for the Teachers, while Amaiah Butterfield scored 7 goals to lead the Signworx Netts Juniors , Elishae Smith scored 2 goals, with Izeya Wainwright and Zidonnae Robinson scoring a goal apiece.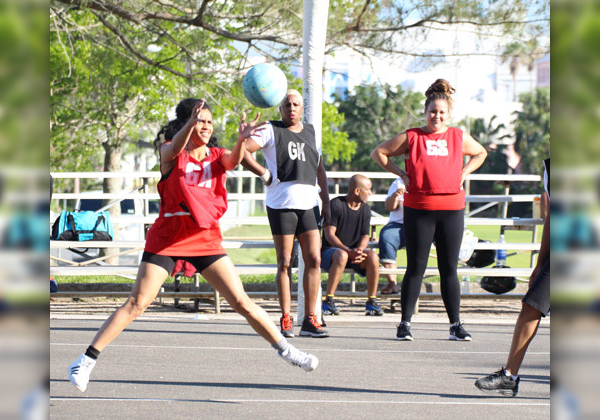 B.A.C Women in Blue defeated the Village Old Girls 33 – 20, Kirstin Saltus scored 18 goals to lead the B.A.C Women in Blue, Darrika Simons added 9 goals and Xon-naye Hunt scored 6 goals. Nicole Smith scored 15 goals for the Village Old Girls, with Michele Romaine chipping in with 5 goals.
The National Team defeated the Summer Ballers 28 – 13, the National Team were led by Zekiah Lewis with 13 goals, Kaamilah Nasir added 5 goals, Inshan-nae Smith scored 4 goals, Amali Smith scored 3 goals, with Demiqua Daniels scored twice and Micah Pond scored once. Ebonie Burgess scored 8 goals for the Summer Ballers, Tamera Simmons added 4 goals, Kiarra Francis scored once.

Read More About