The Bermuda International Long Term Insurers & Reinsurers [BILTIR] recently awarded its first scholarship to Bermudian Imani Smith at the Association of Bermuda International Companies Education Awards luncheon. The scholarship award is $30,000 over a two-year period [$15,000 in year one and $15,000 in year two].
The BILTIR said, "Imani will be attending Kingston University in Surrey, England, where she plans on obtaining a double bachelor's degree in actuarial mathematics and statistics.
"As a student of the Berkeley Institute, she achieved six GCSEs with grades ranging from A to B, sat Advance Placement examinations in Calculus AB, and English Language and Composition, and served on the first ever Prefect Council.
"Her leadership and strong will to assist others is portrayed by her dedication to the Bluebirds' Netball teams, where she serves as the only junior coach. Imani has embodied the athletic scholar through her ability to maintain an exceptionally high GPA while remaining actively involved in sports and her community.
"Whilst completing her senior year, she was the first person ever to attain an Associate Degree in General Insurance [AINS] professional designation due to independent studies.
BILTIR Board Members are pictured with Imani Smith: Chip Gillis, Athene Life Re; Sylvia Oliveira, Wilton Re; Imani Smith; Will Rinehimer, Front Street Re; Manfred Maske, Legal & General Re.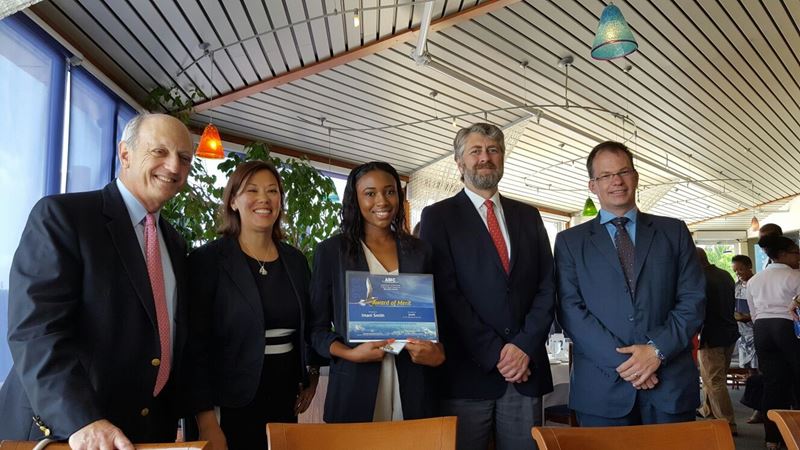 "BILTIR is pleased to support the ABIC Education Awards, whose mission is to enable qualified Bermudians in financial need to pursue their undergraduate or graduate educational goals in areas related to international business. The BILTIR scholarship targets Bermudians studying insurance-related subjects such as mathematics, actuarial science and underwriting."
Ms Smith stated, "I had an amazing time at the ABIC luncheon with the representatives of my corporate sponsor and I truly feel as though I can never fully explain how honored I am to be the 2016 recipient of BILTIR's scholarship. I am sincerely grateful and blessed for your organization's contribution to my commitment on furthering my academic endeavors."
Richard Winchell, ABIC's executive director, said, "ABIC welcomes BILTIR's support for the ABIC Education Awards, our students depend on this support to pursue their careers in International Business. Thanks to donors like BILTIR, we are celebrating 39 years of the awards with more than 560 students receiving support for their college studies."
BILTIR corporate secretary, Wendy Outerbridge, stated "We are extremely proud to award our first scholarship to such an outstanding young Bermudian. BILTIR is providing a mentor to Imani throughout her scholarship term and we look forward to following her progress over the next two years."
Bermuda International Long Term Insurers and Reinsurers [BILTIR] was created to serve as a formal association representing the long-term insurers and reinsurers in Bermuda, which is a growing part of the island's international business community.
The primary focus of BILTIR is to act as an advocate for Bermuda's life and annuity industry, providing a consistent and coherent voice for concerns of the long-term [re]insurance sector.
Read More About