Looking for something silly and wacky  to do to wrap up Cup Match this year? If so, the organisers of the NonMariners race are inviting you to head on down to Sandys Boat Club on Sunday, July 31st.
A spokesperson said, "The 44th NonMariners Race will kick off in Mangrove Bay just before noon this year, with the Non-Calypso Pipe Band leading the NonCommittee in parade to Mangrove Bay Beach to observe the construction of this year's NonCraft. From political satire to outrageous costume, there is something to see all the way to the official NonPrizegiving just before 6.
Slideshow of last year's Non Mariners Race
.
"If you are more into doing than watching, why not get some friends together and come up with your own NonCraft? The rules are pretty easy – if it shouldn't be floating as a single unit then it probably is a NonCraft. For more details, check out Sandys Boat Club's Facebook page or our website .
"Departures from tradition include reversing the direction of the NonParade and starting it a little earlier, the addition of a few more NonEvents at the dock – don't worry kids, there still is a NonNoodle race, one for boys and one for girls – and the announcement of a NonColours art competition for each future NonEvent.
"While hanging out at the raft up is lots of fun, you should make sure to come visit the actual scene and enjoy the antics of the NonCommittee and those who have been caught up in the chaos and friendly mayhem that make this event so special.
"Admission at the Sandys Boat Club is $5 for adults and $2 under 18 – you must be wearing a wristband to purchase beverages. Remember your ID!"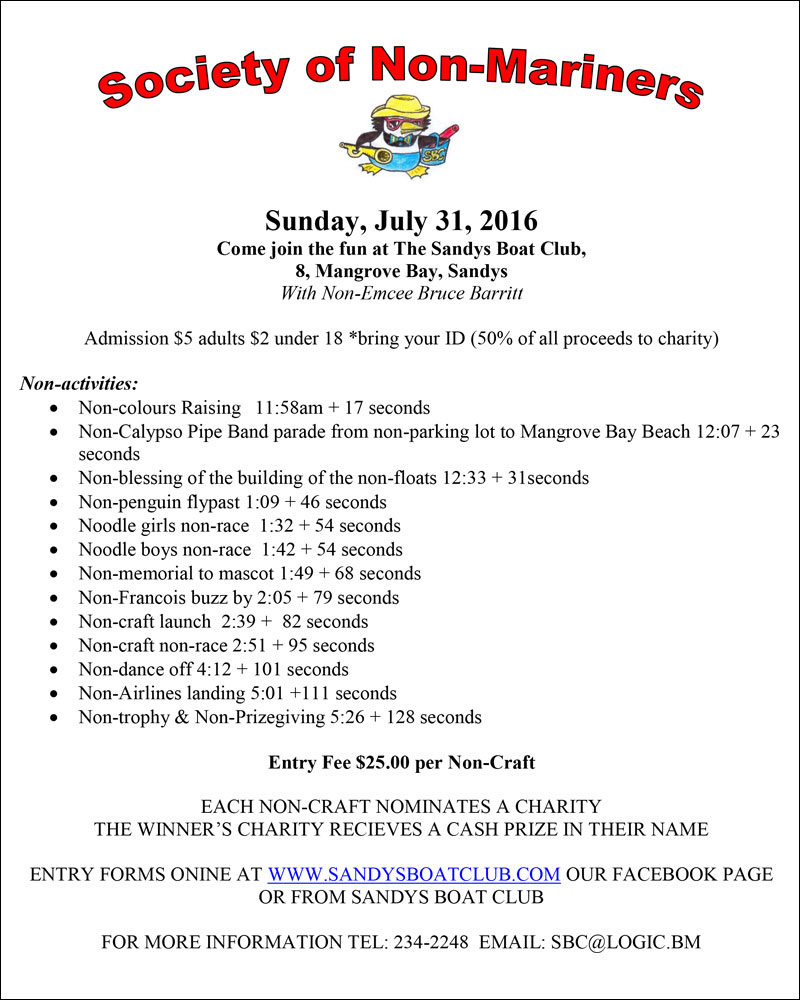 Read More About
Category: All, Entertainment, News