Sandys Boat Club has announced that this year's Non-Mariner's Race will take place on Sunday, August 6.
A spokesperson said, "Always a great way to round off your Cup Match holiday, this not-to-be missed charitable event kicks off at 1:07:79, plus or minus a few minutes. The chosen beneficiary of last year's event, the Bermuda Sloop Foundation, received a donation of $1150.
"The Foundation expressed their gratitude for this gift from Non-Mariners in support of 'the development of our youth as they grow, from non-mariners to mariners, charting the seas of life.'"
Slideshow of last year's Non-Mariners Race
.
"With tomorrow's election, political quotes are likely to drive the non-floats, but there is always plenty to poke fun at as you think up your entry. If you have never had the fun of entering, please note the following non-rules:
The Non-race begins on the command of the Non-Commodore.
The Non-Commodore selects the winner based on Non-rules made up on the day.
The Non-Winner picks the charity to benefit from the event.
Real boat and marine parts may not be used for their intended purposes when constructing your Non-craft e.g. No paddling with oars.
All debris from building and participating must be cleaned up by participants before leaving the event.
Participants are responsible for their own safety.
"Please contact sbcsecretary@logic.bm for entry forms and further information."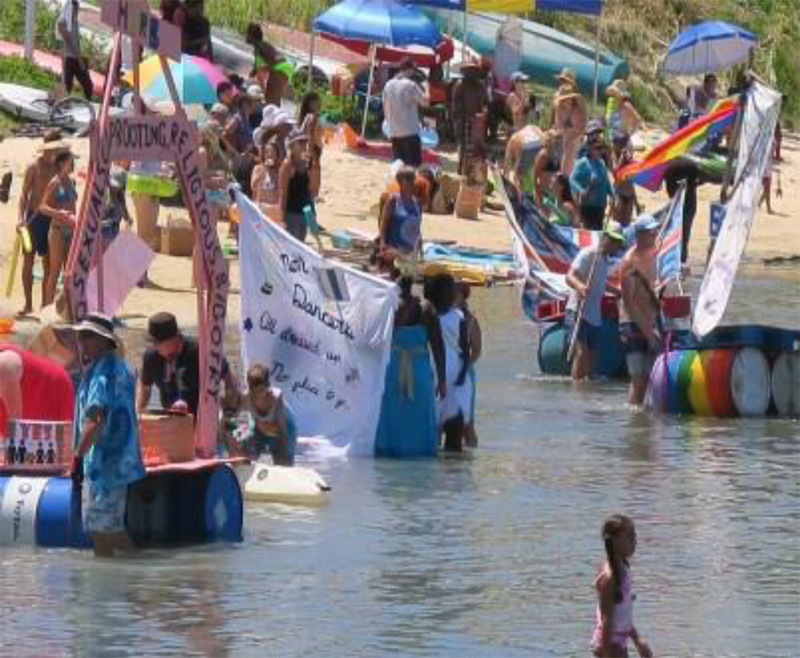 "As non-hosts of this event, the Sandys Boat Club reminds persons wishing to attend from the land that the entry fee is $5 for adults and $2 for children 3-12. 50% of the proceeds from the door will be donated to this year's chosen charity; a donation is also made yearly to St. John's Ambulance.
"The Club will close at 6 and all drop-offs from the water after this time must be made at the Public Wharf or other public area.
"The Non-Mariner's Race is a fun family event. Please support it safely and responsibly, whether in the public areas of Mangrove Bay or at the Sandys Boat Club."
Read More About
Category: All, Entertainment