[Written by Don Burgess]
Somerset has been a model of consistency year in, year out for the past five Cup Matches. Nine players have been selected to play in all five Classics and the team has only used 13 players in that span.
Somerset Captain Jordan DeSilva said, "We're confident in the players we pick because we have played together already. Plus, no one outside the team really pushed for a spot on a consistent basis. We had a couple of guys who were in good form one week then the next week they failed."
He said being able to put out nearly the same team for every Cup Match helps build camarderie and gives them an edge over St. George's who have used 23 players over the last five years.
Video of Somerset's 'winning moment' in last year's Cup Match:
"It's an advantage to have the same nucleus of players. I'm not knocking St. George's for what they do because they're doing whatever they feel they need to to win, but it's a lot more difficult when you're making five, six changes every year."
And DeSilva hopes his 'first win' starts with the coin toss. "That's where really everything starts with what I want to do – batting or bowling – which all depends on the day. It's about setting the tone."
The captain said he wants Somerset to bat well on the first day because, even though they have won the past two years, the first day could have been better.
"One of our goals this year is to dominate from ball 1. We want to dominate straight from Thursday morning through Friday afternoon so we need a good start."
He said there are no major philosophical differences between him and the last two captains – Jacobi Robinson and Jekon Edness.
"All three of us think the same sort of way but we all have our little differences. I said if it's not broke, don't fix it and Jekon set a good precedent in his five years so I'm just trying to come in and do a lot of the similar things and make sure there's not a lot of change. We're all on the same wavelength."
DeSilva is immensely proud to be the first in his family to play Cup Match, and now the first to captain Somerset. He's also proud to have blazed the trail that his cousin Justine to follow in. His family have been going to Cup Match for 40 years.
"I went from watching the game with them to them now coming watching me in the game."
There has been some controversy over his selection as Cup Match captain, but the first families of Somerset have rallied around him, including the Hortons.
"It means a lot. To be honest, I haven't paid much attention to the negative stuff. People bring it up, but it's nothing that I've lost sleep over.
"But to get support from the Hortons, who actually live right next door to me, and other people from the club is all that matters to me because they're backing me. The negative stuff is part of Cup Match – people are always going to do those types of things."
Former Somerset Cup match captain Randy Horton phoned DeSilva to give him his support.
Jordan DeSilva with Ellen-Kate Horton and Katura Horton-Perinchief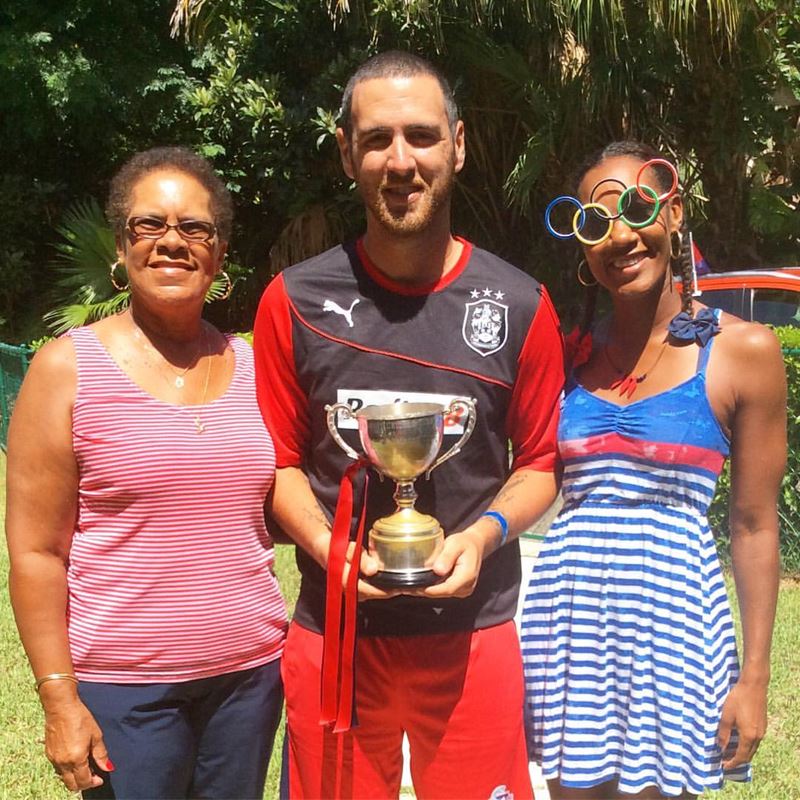 Somerset is set to make history if it can win a third match in a row. The last team to win at least that many in a row was St. George's from 1964 to 1969 and the last time Somerset did it was from 1939 to 1942.
"It would be important for the club because the last time it happened for either team was in the '60s.
"But it's also important for us now that Janeiro has announced it would be his last Cup Match, that he goes out on a high. He's the most prolific player who has ever played Cup Match.
"It would be the greatest honor as a club to make sure he goes out in the highest possible way. All the guys are extra motivated this year to send our best player ever in Cup Match out as a winner as well as get the threepeat."

Read More About