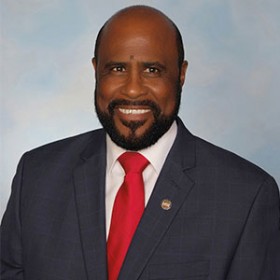 For the first time in its 35 year history of Labour Day celebrations, the Bermuda Industrial Union's keynote speaker at their annual Labour Day Banquet on Friday, September 2 will be the Union's President.
A BIU spokesperson said, "Brother Chris Furbert will join a list of notables who have addressed the BIU membership and other banquet attendees.
"At the first banquet in 1982, Mayor Andrew Young of Atlanta was the guest speaker and following him there is a list of other mayors from various cities in the United States, pastors, politicians and trade union leaders who have taken the podium at the now closed Sonesta Beach Hotel and the Fairmont Southampton Princess Hotel.
"Brother Chris Furbert has been representing the working class people of Bermuda for the past 44 years in ensuring that they are treated fairly in the workplace. This has always been his passion, representing workers. Should you ask anyone close to him, they will tell you that, this is his life and he truly enjoys what he does.
"Beginning his trade union career on the Hamilton Docks where he worked as a Longshoreman, Brother Chris was elected Assistant Secretary of the Port Workers division of the BIU in 1971.
"He also served as Vice President of the division and in 1981, after the general strike he became President of the Port Workers division, a position he held for fifteen [15] years, until February of 1995, when he was given the opportunity to work as a fulltime organizer of the Bermuda Industrial Union [BIU].
"In March 2006 he was elected as President of the BIU after serving as Vice President for ten years.
"Educated at Northlands Primary School and Robert Crawford School, Brother Chris has completed several leadership courses at the George Meany Centre for Labor Studies in Silver Springs, Maryland, the University of the West Indies and other labor training institutions."
"For almost 20 years, Brother Chris has been a member of the Bermuda Labour Advisory Council [LAC], a committee who advises the Minister of Home Affairs from time to time on labour issues. The representatives of the Committee are The Ministry of Home Affairs, Employers and Trade Unions.
"On five occasions he has represented the Bermuda Industrial Union at the International Labour Organisation [ILO] conferences in Geneva, Switzerland and he has represented the BIU at several other labour conferences both locally and overseas.
"Brother Chris is well known for his negotiating skills and he has been involved in several successful arbitration hearings for the Union. For the past several years he has headed the BIU's negotiating team for new collective bargaining agreements with the island's largest employer, the Bermuda Government.
"He is also well respected by Government officials and members of the private sector for his ability to analyze statistical data and some say that he 'knows his stuff.'
Slideshow of last year's Labour Day Banquet:
.
"In addition to the annual Labour Day Banquet, other events for this year's Labour Day celebrations include the BIU's 2nd Annual Pre-Labour Day Golf Tournament to be held at Port Royal Golf course on Wednesday, August 31, 2016.
"On Sunday, September 4th, BIU members are encouraged to attend the church of their choice in the morning and then the Pre-Labour Day Gathering at Shelly Bay Beach from 2:00 p.m. until 7:00 p.m.
"The annual Labour Day Race and Walk hosted by Swan's Running Club kicks off on Labour Day, Monday September 5th at 8:30 a.m. from BIU Headquarters. The Labour Day March also starts at BIU Headquarters at 11:30 a.m. after Labour Day Greetings have been shared by various trade union leaders.
"Persons interested in purchasing banquet tickets should contact Sister LaVerne Furbert on 292-0044 or by email at lfurbert@biu.bm. Tickets are available at $100 each."
Read More About