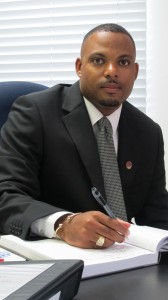 BPSU President Jason Hayward will be the guest speaker at the Labour Day Banquet on Friday, September 4, 2015 at the Fairmont Southampton Hotel.
The announcement said, "BIU President, Brother Chris Furbert and the Executive Board is delighted that Brother Jason Hayward, President of the Bermuda Public Services Union has accepted the Union's invitation to address attendees at this year's Labour Day Banquet which will be held on Friday, September 4, 2015 at the Fairmont Southampton Hotel. Brother Jason will address this year's Labour Day theme,"Leadership by Example" during his keynote address.
"Brother Jason Hayward is a committed trade unionist and currently serves as the first elected full-time President of the Bermuda Public Services Union [BPSU]. In June 2015 he was also appointed as Treasurer of the BPSU.
"Mr. Hayward serves as the 1st Vice President of the Bermuda Trade Union Congress, an executive of the Caribbean Public Services Association, a leader of the People's Campaign for Equality, Jobs and Justice and holds a seat on the Board of Directors of the BIU Credit Union.
"Upon graduation from the Berkeley Institute, Brother Jason attended the Bermuda College and graduated with an Associate degree in Arts & Science.
"He then attended Mount Saint Vincent University and graduated with a Bachelors of Business Administration. Mr. Hayward also possesses a Masters of Business Administration in Finance from Nova Southeastern University.
"Prior to March 2015, Mr. Hayward spent 11 years working within the Bermuda Government Department of Statistics producing outputs such as the Gross Domestic Product [GDP], the Retail Sales Index [RSI], the Balance of Payments [BOP] and the Tourism Satellite Account [TSA].
"He is an alumnus of the Canada – Caribbean Emerging Leaders Dialogue [a Commonwealth leadership development program], holds a Level 7 Certificate in Strategic Management and Leadership from the Chartered Management Institute and formally served as an Executive and Management Officer of the North Village Community Club between 2007 – 2014.
"Tickets for the Labour Day Banquet are available at $100.00. Persons interested in purchasing tickets for the banquet should contact Sister LaVerne Furbert at 292-0044 or by e-mail at lfurbert@biu.bm.
"The Labour Day activities will begin at 8:00 a.m. on Monday, September 7, 2015 with the Swan's Running Club Annual Children's Race and Walk which is being sponsored by Lahey Clinic this year.
"Prior to the annual Labour Day March which will leave from B.I.U. Headquarters at 11:30 a.m., Bermuda's trade union leaders will present Labour Day greetings those the assembled audience. The Community Services Federation will give free health screenings during the morning.
"The BIU and the Joint Labour Day Committee looks forward to a large turn-out at this year's Labour Day activities."
Read More About