SoftBank Team Japan officially began construction of their new America's Cup Class [AC50] yacht this week with the fabrication of two carbon fibre bow-sections at a Yamaha production facility in Gamagori, Japan.
Once completed, the new yacht will be delivered to Bermuda in January 2017 where the team will begin testing it in preparation for the 35th America's Cup.
The  team said the "never before raced AC50 will be the most technologically advanced yacht in America's Cup history – an enlargement of the team's AC45 Sport testing platform currently being used."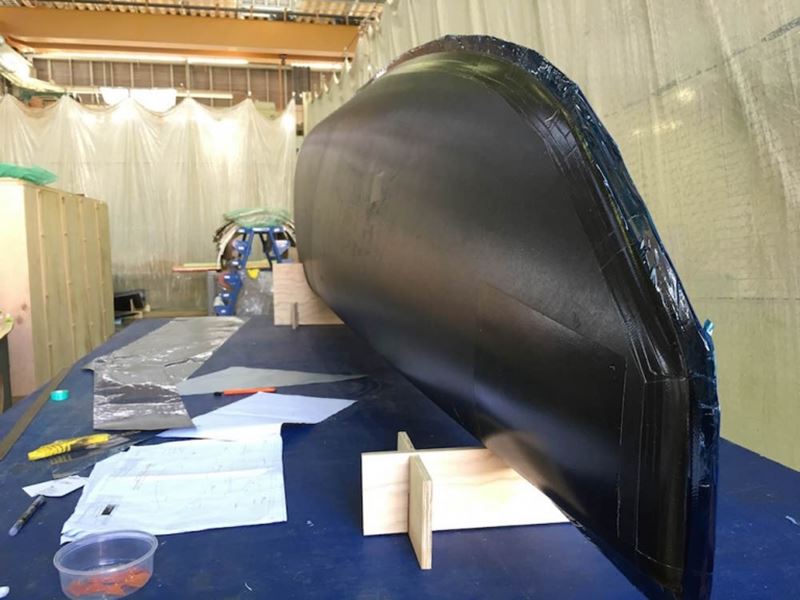 "We built the old Nippon Challenge boat in Gamagori almost exactly where this new factory is now", remembered team General Manager Kazuhiko Sofuku, a veteran of multiple Japanese led America's Cup challenges.
"This is the city where the team was based so personally I really feel some very special emotions around this moment. While I was visiting the Yamaha Gamagori factory back in May, I could feel the root of the challenger spirit again."
The Japanese made bow-sections are being constructed in Japan to fulfill a requirement that each team must have a portion of their hull built in their home nation.
In addition, the majority of the carbon fibre materials used for the bow-sections come from Japanese based Toray Industries.
Once finished, they will be shipped on Thursday, August 11th to Core Builders in New Zealand to be mated to the rest of the hull already under development.
In the meantime, the team is currently testing several dagger board designs and configurations as well as a new AC50 wing mounted to their AC45 Sport yacht in Bermuda. These technologies will then be transferred to the new yacht once delivered next year.

Read More About