In commemoration of UN International Youth Day, the Bermuda Public Services Union said they join "our brothers and sisters around the world in recognizing this year's theme, 'The Road to 2030: Eradicating Poverty and Achieving Sustainable Consumption and Production.'
BPSU President Jason Hayward said, "The UN is using this day to promote the achievement of their 2030 Agenda for Sustainable Development by focusing on the leading role that young people play in both eradicating poverty and ensuring sustainable consumption and production patterns.
"The UN categorizes youth as those persons between the ages of 15 – 24. It is worthwhile to note that this same age demographic coincides with the portion of the Bermudian population that is currently experiencing the highest unemployment rate.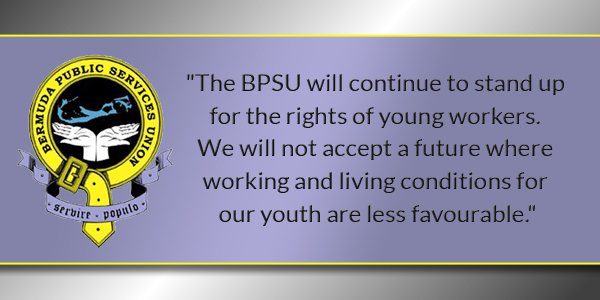 "It is impossible to achieve sustainable growth and development in Bermuda if our youth are not a critical part of the plan and they continue to feel marginalized in our society. It must be discouraging for our youth population to be living in a country that seems to lack employment opportunities and hope.
"Despite the reality that our youth are experiencing, I would like to encourage our youth to strive to become productive members of society.
"I can reassure our youth that while the National Training Plan has not been completed, the National Training Board is working diligently on a national plan that ensures that there is a strategic way forward that creates opportunities in Bermuda for our youth.
"The BPSU will continue to stand up for the rights of young workers. We will not accept a future where working and living conditions for our youth are less favourable.
"We want an inclusive and equitable Bermuda that offers opportunities for all!"
Read More About