[Written by Dennis Brown]
First of all, I am truly sorry for not being able to attend the home going service of our dear friend and colleague Jermaine "Speedy" Smith, as I am currently abroad with my family on a much needed vacation.
When I received the news from Cal that Speedy had passed, I was on my daily stroll at Admiralty House with the dogs. A sudden rush of sadness came over me, and I had to stop and just reflect on what Speedy meant to all of us at Bermuda's Brazilian Football School [BBFS] over the years. To us he was Speedy, but to the players he was known as "Coach Speedy".
Speedy, on right, at a BBFS coaching camp in the USA in 2015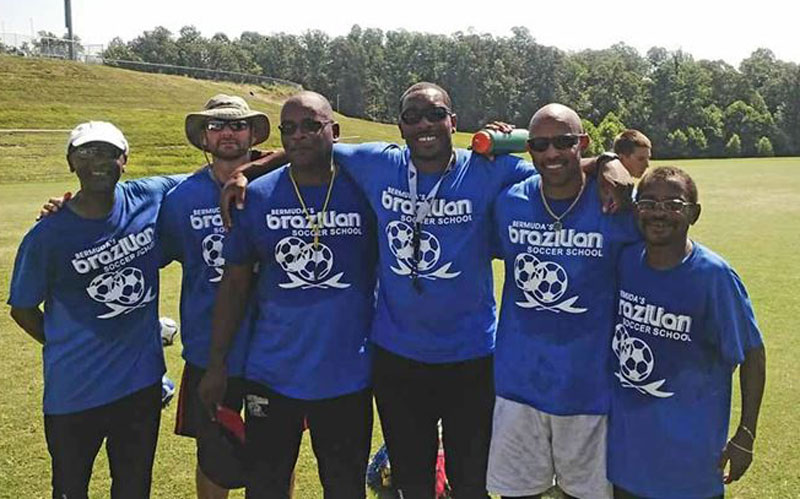 Coach Speedy, where do I start?
I first came to know of Speedy when in 2009 he was recommended to BBFS by CEO Cal Blankendal. He mentioned to me that a guy by the name of Jermaine Smith was interested in coaching with us at BBFS. I have always respected the judgement of Cal, so I said that I would meet him because at that time it was just Cal and myself doing all the coaching at various venues.
When I eventually met him, it was easy to notice that he was a little on the short side with him just coming over my waist. I privately asked Cal, "Are you sure that your boy can handle it?"
Cal replied, "Don't underestimate his size, because he is like those ankle biter dogs". I remember smiling and said, "Ok, let's try him out".
Cal wasn't lying, Coach Speedy was definitely no pushover. He was never afraid to voice his opinion or let his players know what he thought. Looking back, this was one of the best decisions that I have ever made in my life to bring Coach Speedy on board as a BBFS coach.
Coach Speedy hit the ground sprinting, not jogging. It was natural for our new coaches to understudy myself or Cal in the training methods of BBFS before they were able to conduct sessions on their own.
So for a 6 week period, Coach Speedy was understudying me. He was very eager and motivated to coach on his own because after the first week of sessions he came to me and asked. "Hey Brown, I think I am ready to take a session."
So I smiled and asked him, "So if you're ready to take a session, show me a Ronaldo move within the BBFS curriculum?".  He then smirked back at me and said, "Ok Brown, you got me there, I am not ready yet". We both laughed about it and then got back to business.
After roughly 3 weeks of sessions, I slowly eased Coach Speedy into taking our warm ups which comprised of many foot skill exercises. He did really well with that and came back to me after one session and said, "I am ready now Brown" in a very enthusiastic voice. So after 6 weeks, he was ready to conduct sessions on his own, and the rest, as they say, is history.
Coach Speedy was an integral part of the success of BBFS and where it is today, not just as a coach and mentor to the youth, but also as a very serious disciplinarian. Coach Speedy didn't play, and the players knew it.
He could be heard telling the kids, "Look, don't waste my time, if you don't want to train, go home". And these were just 5, 6 ,7 and 8 year olds. Coach Speedy has helped to nurture and develop some of the bright young up and coming players that are presently in the Bermuda National Academy today, where 10 of the National Under 17 Men's squad came through BBFS and Coach Speedy as those 5,6,7 and 8 year olds.
Football was his love and his passion and he showed it almost every day. You could always rely on Coach Speedy to be there coaching the kids from Warwick Pre-School to Dellwood Middle School, Whitney Middle School, Youth Net After School Program, HSBC After School Program and BBFS Camps, and the list goes on.
Coach Speedy accompanied BBFS on many overseas excursions which included Ajax Academy, Bayer Leverkusen, Chelsea, West Ham, Peckham Town, Canada, Disney Tournaments, Denmark and most recently in 2015, he traveled with us to Calvert County Maryland to conduct a camp for over 200 kids. He was unable to accompany us to Maryland this year because of his illness, but all the kids and coaches there signed a get well card for him.
Coach Speedy will be a huge miss to BBFS. Seldom in life do you encounter an individual that makes an impact like Coach Speedy made at BBFS. We are forever blessed and thankful to have had such a great football enthusiast in our ranks.
One thing that will that always make me smile about Coach Speedy is hearing him tell his players, "Some of you are not going to make it because if you want to play this game, you got to be fit". And these were just those 5, 6, 7 and 8 year olds.
I will also miss teasing him, especially after Liverpool beat Tottenham Hotspurs every season in the EPL.
In closing, on behalf of my family and the Bermuda's Brazilian Football School family, I would like the family of Coach Speedy to know that our thoughts and prayers are with you at this difficult time.
Rest in Peace my friend,
- Dennis Brown
Read More About