Validus Holdings, Ltd today announced the winner of its Validus Scholarship, an annual program, now in its second year, that provides financial support to Bermudian students aimed at cultivating academic achievement, community involvement, and leadership skills.
Kyra Hodsoll, currently a second-year participant in Validus Summer Student Program and a student at Kingston University in the United Kingdom, has been named the 2016 Validus Scholar.
Validus CEO Ed Noonan, Kyra Hodsoll, and Norma Trott, Human Resources Director at Validus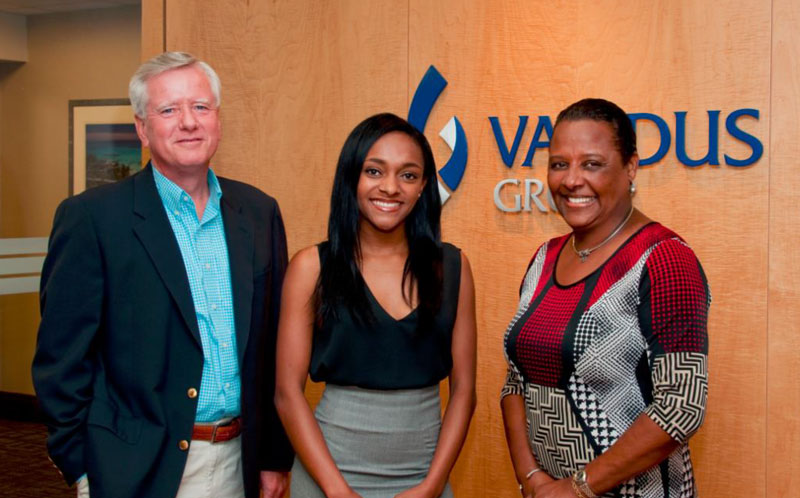 The Validus Scholarship provides funding to a Bermudian student who is pursuing an undergraduate degree at an accredited university. The scholar is selected based on academic acumen, financial need, good character and community involvement.
On becoming the scholarship winner, Kyra Hodsoll said, "I am honored and truly thankful to be Validus' 2016 Scholarship candidate.
"Working as a rotation student at Validus for the second year has exposed me to great opportunities and has allowed me to gain invaluable experience. My mother has instilled in me a profound value for education, dedication and excellence, which I plan to make my legacy."
"After reviewing many outstanding candidates, we chose Kyra based on her strong work ethic and commitment to excellence, which she exceptionally demonstrated throughout the interview process. We are delighted to support her through her undergraduate education," said Ed Noonan, Validus' Chairman and Chief Executive Officer.
"Validus remains committed to helping Bermuda's students achieve their educational objectives. We look forward to continuing our annual scholarship support and to seeing what Kyra and other Validus Scholars will go on to accomplish in the future."

Read More About