Validus Holdings, Ltd. today [Aug 1] announced the winner of its Validus Scholarship, an annual program, now in its third year, that provides financial support to Bermudian students aimed at cultivating academic achievement, community involvement, and leadership skills.
Sachio Harrison, currently a first-year participant in the Validus Summer Student Program and soon to be a student at Western Ontario University in Canada, has been named the 2017 Validus Scholar.
The Validus Scholarship provides funding to a Bermudian student who is pursuing an undergraduate degree at an accredited university. The scholar is selected based on academic acumen, financial need, good character and community involvement.
Norma Trott, Human Resources Director Validus Holdings Ltd., Sachio Harrison, 2017 Validus Scholarship winner and Ed Noonan, Chairman and CEO Validus Holdings Ltd.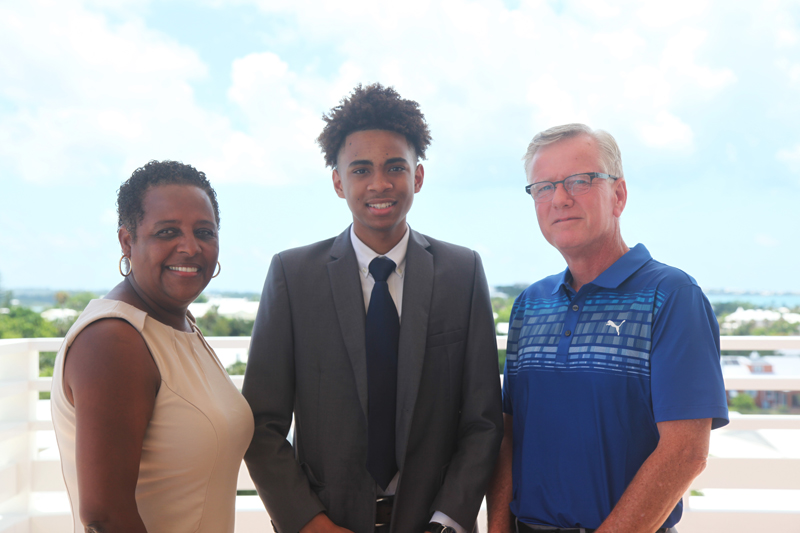 On becoming the scholarship winner, Sachio Harrison said, "It is a tremendous honor and privilege to be chosen for this scholarship.
"I simply cannot fully express in words my appreciation and gratitude towards the scholarship committee for their support and generosity. I plan to study statistical and actuarial science at the University of Western Ontario, and this scholarship has definitely made my goal of becoming an actuary much more of a reality."
"After reviewing many outstanding candidates, we chose Sachio based on his outstanding academic history, clear commitment to his community and his strong work ethic. We are delighted to support him as he embarks on his undergraduate education," said Norma Trott, Validus' Human Resources Director.
"Validus will always be committed to helping Bermuda's students achieve their educational and professional aspirations. We look forward to continuing our annual scholarship support and to seeing what Sachio and other Validus Scholars will go on to accomplish in the future."

Read More About