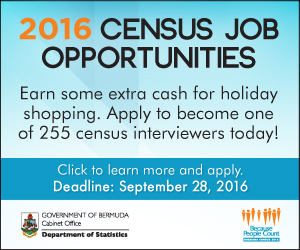 The Department of Statistics is seeking more than 250 census interviewers to conduct door-to-door interviews to gather census information.
"Those interested in these part-time positions should apply by 7:00 p.m. Bermuda time on 28 September, 2016 at www.govtcareers.gov.bm," a spokesperson said.
"Successfully trained interviewers will collect data with either a Government netbook or paper questionnaires. Census interviewing is usually conducted on weekends or evenings when residents are most likely to be home."
Premier Michael Dunkley said, "This year's census questionnaire on population and housing is more concise than any other in Bermuda's recent history. By law, every individual in our community must be counted – in every Parish across our Island.
"Ultimately, being counted will give the Government the information it needs to develop effective forward planning strategies relating to infrastructure, education, health, employment and other economic and social requirements. Important decisions about how we plan for Bermuda's future will rest on the data collected.
"As Premier, I am encouraging all those who have yet to complete their 2016 Census questionnaire to please assist our census interviewers in collecting this vital information. Also, I am urging those who wish to assist us to sign up and participate as a census interviewer in this national undertaking."
The Government added, "Currently, 64.3% of assessment numbers [includes residential units, businesses, vacant houses, derelict buildings and vacation homes] have been accounted for via web, telephone or in-person interviews. The balance of assessment numbers are targeted to be counted by year's end.
"Call 297-7761 or visit the Department of Statistics, CedarPark Centre, 3rd Floor, 48 Cedar Avenue, Hamilton weekdays between 10:00 am and 4:00 pm or an interviewer will have to visit you to complete your census questionnaire.
"As a reminder, all data gathered is protected as outlined in the Statistics Act, 2002 and is held in the strictest of confidence."
Read More About