The Bermuda Sloop Foundation is inviting the public to attend its free Community Spirit event on Friday, September 30 at Albuoy's Point in Hamilton in order to celebrate the 10th anniversary of the Spirit of Bermuda's arrival.
The free and family-friendly event will begin at 5.30pm and end at 8.30pm.
In addition to the flotilla arrival and tours of the Spirit of Bermuda, the event will include entertainment from The Simons Brothers, Showtime Drumline, Chewstick Culture Club, Gombeys, Aerial Performers, and Rockfire Productions, with food vendors on hand to provide refreshment options during the festivities.
Bermuda Sloop Foundation CEO Diana Martin said, "We are looking forward to celebrating this 10 year milestone with the community, as it is the community who has made the Spirit of Bermuda a success."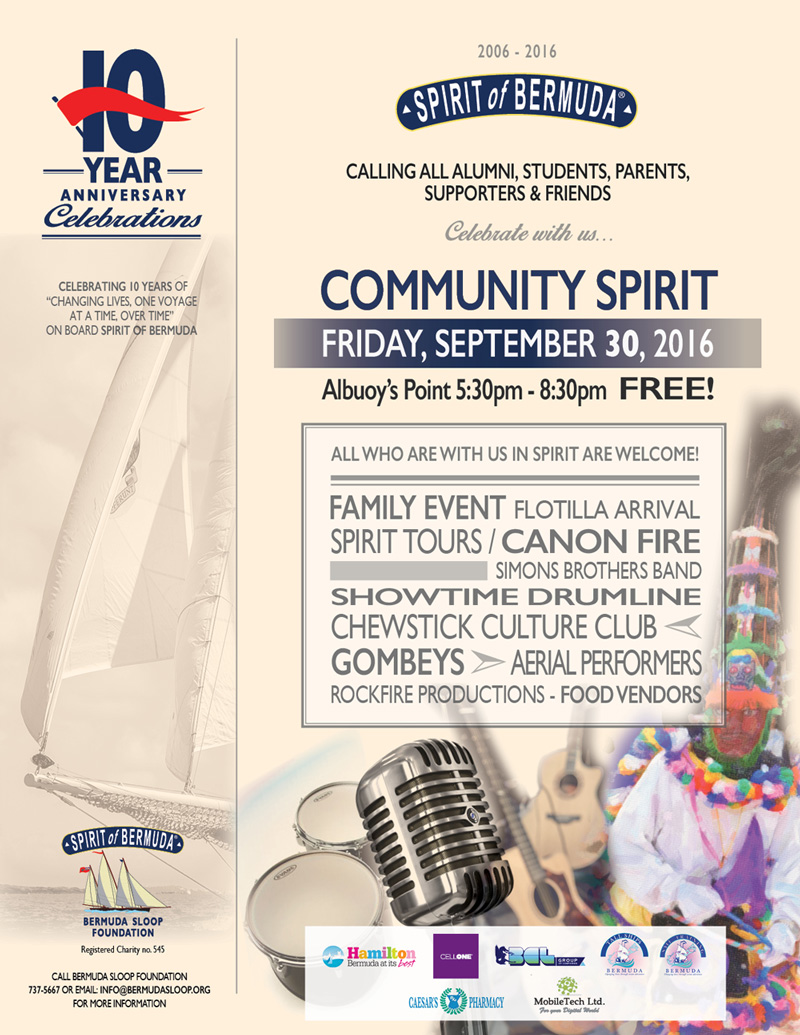 "The fact that Spirit was built and has now completed ten years of successful sail training is due to the enormous generosity of many individuals and companies who see the benefit that sail training and the programs that the Bermuda Sloop Foundation provides to the youth of Bermuda.
"It is also extremely gratifying that, in those ten years, Spirit has become a Bermudian icon."
A spokesperson said, "Currently, every public school student spends time on Spirit receiving character development and experiential learning through STEAM [science, technology, engineering, art and math] education.
"Last year, Spirit of Bermuda and the Bermuda Sloop Foundation were awarded the prestigious Sail Training Program of the Year award by Sail Training International at their annual conference in Quebec.
"Bermuda Sloop Foundation extends thanks to the event sponsors: Bermuda Cleaning, Cell One, Corporation of Hamilton, Tall Ships Bermuda and Sail Training International, Mobile Tech, and Caesar's Pharmacy. Their generosity has enabled this event to be free to the public."
Read More About
Category: All, Entertainment, News