"Thank you for promoting the noble principles of tolerance, inclusion, respect and acceptance into our international business culture," Premier Michael Dunkley told attendees at the Dive In Festival.
The first Dive In festival was held in London in 2015, and was considered a great success. This year's Dive In Festival included more than 50 events and took place between 27-29 September 2016 across numerous countries including Bermuda.
The initiative is aimed at promoting diversity and inclusion in insurance, and the events in Bermuda included 'Un-biasing our Unconscious Bias,' 'What Executives Need to Know About Women and Gender Strategies,' and 'Hidden Disabilities.'
Speaking at the event, Premier Dunkley said, "Thank you for your gracious invitation to what I consider is a very important and timely event.
"I came across this quote recently which I thought was quite applicable in the context of celebrating the launch of the Dive-In Festival: "In a real sense all life is inter-related. All men are caught in an inescapable network of mutuality, tied in a single garment of destiny. Whatever affects one directly, affects all indirectly. I can never be what I ought to be until you are what you ought to be, and you can never be what you ought to be until I am what I ought to be… This is the inter-related structure of reality." ~ Martin Luther King Jr.'s Letter from Birmingham Jail and the Struggle That Changed a Nation.
"Ladies and gentlemen, embracing and respecting one another and our diverse backgrounds, cultures, character make-ups, human conditions, varying view points and differing ideologies are so critical in such an interconnected world. Bermuda is a community with a rich and diverse culture. It's something that makes us unique. We are proud of our Bermudian culture."
Premier Dunkley, Acting Governor Ginny Ferson and Opposition Senator Kim Wilkerson, with Dive-In participants, organizers and guest speakers.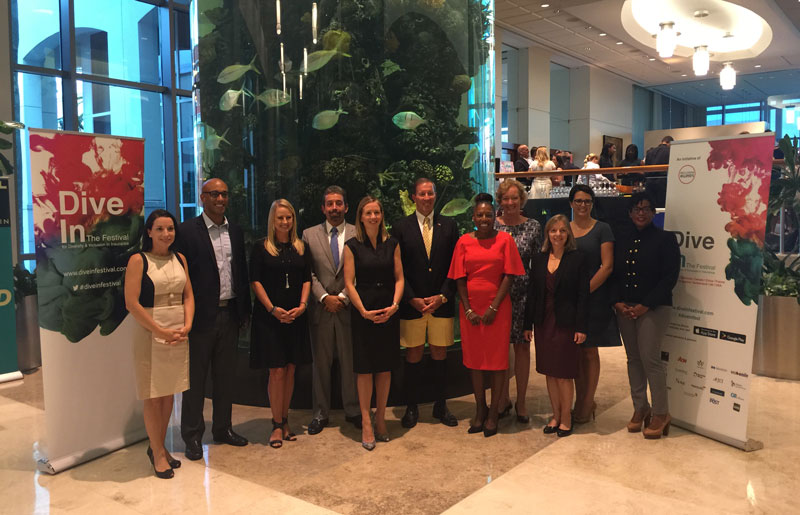 "And so today, on behalf of the Government and people of Bermuda, I am extremely pleased to lend my support to this ground-breaking event aimed at emphasising the importance of diversity and inclusion of all forms in the international business environment and indeed throughout Bermuda.
"The Dive-In Festival has certainly made its mark in its first year. And this year, Hamilton, Bermuda is proud to join other iconic cities around the world in serving as host to this event. Places like Shanghai, Singapore, Sydney, Dublin, Paris, Zurich, London, Chicago, New York and Toronto.
"While we may be hosts in different countries and varying time zones, as Dive-In Festival participants, we are all unified in our goals. We are all connected. We want to:
Engage and educate people at all levels in the Re/Insurance Market.
Provide people with understanding, knowledge and tools to implement positive change; and
Build Momentum and create a blueprint for future actions.
"And if we are successful in accomplishing our goals, imagine what we can achieve. We can create a more innovative and inspired workplace and ultimately transform our working environment for the better.
"This Government recognizes the importance of the international business sector and its related industries to Bermuda and our economy.
"It provides significant opportunities for Bermudians, in terms of jobs, training and development. It supports families and communities.
"But we also recognize that we must encourage more individuals to get involved in a sector that is currently the critical engine driver of our economy – unique and committed individuals who can bring a special perspective and enhanced value to this industry.
"And by introducing the best practices as advocated and supported by the Dive-In Festival, I am hopeful that we will attract some of the best and brightest people into this vibrant area of our workforce.
"I want to thank all involved for your hard work and effort in planning this event, in particular, Lisa Robinson for championing the Dive-In Festival and being instrumental in bringing it to Bermuda.
"To all of you, thank you for promoting the noble principles of tolerance, inclusion, respect and acceptance into our international business culture. It is critical to our success and our destiny. I wish you a very successful event."
Read More About