We are "very proud of our efforts" to withstand hurricanes, Premier Michael Dunkley told the New York Recovery & Resilience Leadership Forum, saying that our pastel cottages with white roofs "are picture-perfect, but they also provide highly secure shelter in the most ferocious storms."
The Premier was one of the speakers at yesterday's New York Recovery & Resilience Leadership Forum, which was hosted by RenaissanceRe at the New York Stock Exchange [NYSE] and focused on the lessons learned since Superstorm Sandy, efforts to promote resilience before the next storm and more. Following the Forum, the Premier joined representatives from RenaissanceRe on the floor of the NYSE for the closing bell.
Premier and RenaissanceRe representatives at the NYSE yesterday: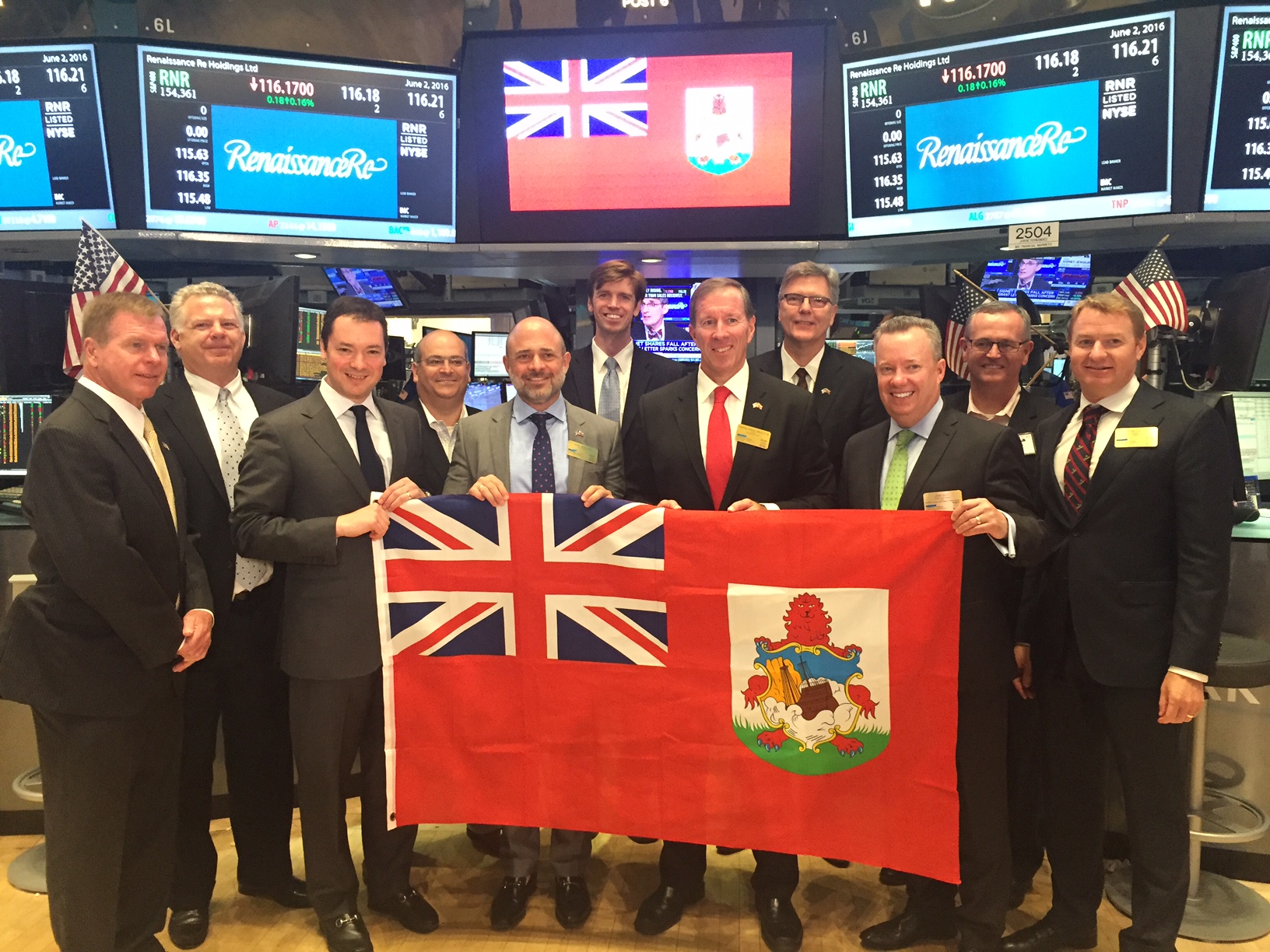 Speaking at the event, the Premier said, "On behalf of the Government and people of Bermuda it's truly a privilege to be here. First and foremost, I'd like to thank the New York Stock Exchange for hosting this exceptional forum.
"This is a powerful meeting of minds, a synergy of shared experience—and a wonderful opportunity to trade insights and connect with others who have endured and overcome significant natural catastrophes.
"Thanks also, to my fellow attendees — distinguished leaders who participated in these discussions. We are joined by leading industry experts—in finance, insurance and disaster relief—all topics critical to our communities.
"I am pleased to represent Bermuda here today for a number of reasons.
Premier Dunkley met with part-time Bermuda resident and business leader Michael Bloomberg: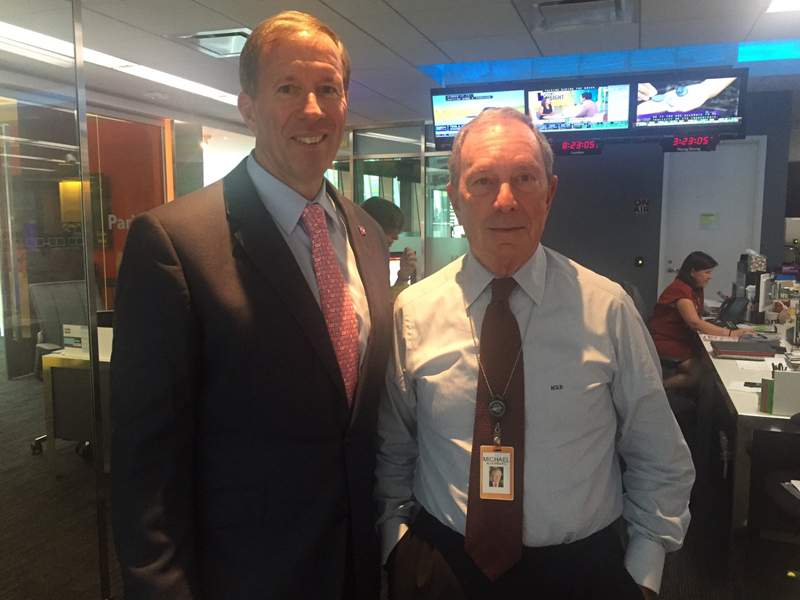 "The first is that Bermuda sits in a geographical bulls-eye. Quite simply, we lie well within the mid-Atlantic thoroughfare known as hurricane alley. And at the start of every hurricane season—just like yesterday—all of Bermuda begins paying close attention to the predictions.
"In fact, Bermudians themselves are very savvy people, who are quite proud of the way they handle hurricanes.
"For us, preparation is key. We tune up the generators. We begin stocking up on our storm supplies.
"We know how to batten down the hatches, how to hunker down for the duration, how to help each other and how to get back on our feet in short order. Yes – we have a long legacy with hurricanes.
"The names of some of the biggest storms are etched in our memories and our history books. Bermudians can tell you where they were when 1987's Emily hit, or when 2003's Fabian struck us.
"Sometimes two in a single week—like Fay and Gonzalo, in October 2014. Gonzalo was a Category 3 storm that made a direct hit on a Friday, and by Monday morning, it was business as usual in Bermuda.

A look back at Hurricane Gonzalo:
"That's a testament to the character and resilience of Bermuda… as well as our robust infrastructure. The legacy of hurricanes has taught us much — and over centuries, it has shaped how we respond to these perennial threats," the Premier continued.
"Bermuda's story is unique. We are very proud of our efforts to withstand the force of hurricanes like Gonzalo through good preparedness, storm-safe architecture and pragmatic building practices.
"Granted, our pastel cottages with their hallmark chimneys and white roofs are picture-perfect—but they also provide highly secure shelter in the most ferocious storms.
"We're proud that every Bermudian has a storm-safe home, and not just those residents who live in high-value dwellings.
"The same construction materials and methods are used to build every home on our Island.
"Our knowledge of hurricanes and the remarkably composed temperament that comes with it is the product of all our generations, from the very beginning of our history.
"Indeed, Bermuda's first settlers came to the Island in 1609 not by plan but by way of a storm.
"We're an Island—some 600 miles from the nearest mainland. But despite our isolation, Bermuda is well recognized for our vibrant local insurance industry, sensible building practices and a culture of preparedness.
"And as well as experiencing our own storms, Bermuda also plays a significant role in paying the costs of other people's storms. And that's the second reason I'm here.
"Bermuda is a top-tier international financial centre that is respected worldwide thanks to the major companies who make their home in our jurisdiction. These include some of the world's largest reinsurers—the companies that insure the insurance companies.
"Bermuda is just 21 square miles, but it is one of the top-three insurance and reinsurance centres in the world, alongside London and New York.
"Our pre-eminent companies, like RenRe here today, contributed a total of 3-billion-dollars in claims payments to those who lost their homes and businesses during Sandy. They paid 30 percent of insured losses from Hurricanes Katrina, Rita and Wilma and helped rebuild the US Gulf and Florida coasts.
"And they covered almost a tenth of 9/11 claims—and were among the first to settle those claims.
From left: Stephen Weinstein, General Counsel of RenaissanceRe; Michael Bloomberg; Premier Dunkley & ABIR President Brad Kading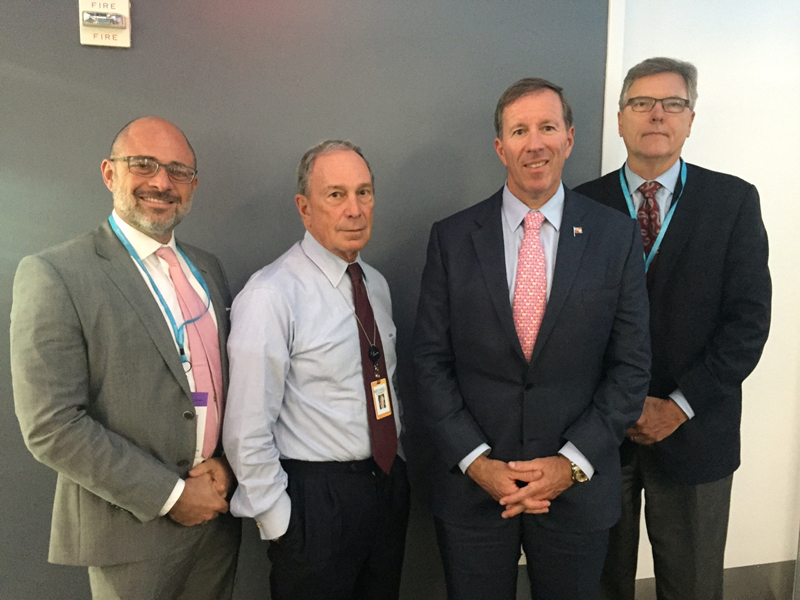 "Over the past 15 years, Bermuda's insurers and reinsurers have paid an estimated 35-billion-dollars for US catastrophe losses alone. And we're proud to play a role in supporting onshore cities, communities and coastlines.
"We're proud of our blue-chip jurisdiction—a place where people with world-class talent work for innovative companies that are fulfilling a critical role in the global economy.
"It's also important to note that Bermuda companies such as our reinsurers are disproportionately New York Stock Exchange-listed companies—meaning we are home to those who meet the highest transparency standards.
"Simply put, Bermuda is not a place to hide money, but to raise it. And we're proud that so much of the capital raised in Bermuda is transferred to communities worldwide, including the US and the New York region, to help rebuild after events like Sandy.
"Bermuda is the headquarters for companies that are willing to meet the highest standards of compliance and international cooperation. Our marketplace is dominated by companies listed on this very Exchange, and we salute them.
"One of these is Renaissance Reinsurance. RenRe was born and bred in Bermuda, created in 1993 after the need for accessible reinsurance capital was clear following the devastation of Florida's Hurricane Andrew.
"RenRe went public in 1996—and today it has offices around the globe and is one of the world's largest and most successful catastrophe reinsurers. We call it one of our "Big Cats."
"RenRe's own share of Sandy claims payouts totalled some 130 million dollars. I'd like to thank RenRe today – for choosing Bermuda, and for all it does both for our local community on the island, and for onshore communities like yours.
"Companies like this are vital to sustainable economies everywhere, and we appreciate them. Thank you. Lastly, I'd like to invite you all to come and visit us in Bermuda.
"Come and see the Island for yourselves. Our connections with New York are strong—and we're only a 90-minute flight away. One of your best-known chefs, Marcus Samuelsson of Harlem's Red Rooster, has a restaurant at our iconic Hamilton Princess & Beach Club hotel.
"Former Mayor Bloomberg is a good friend of Bermuda. Every year, many Bermudians come to visit this city, to study here, to work, to run your marathon. Our connections to the United States go back centuries—when shipwrecked settlers from Bermuda sailed on to Jamestown, Virginia.
"The food, supplies and manpower they brought with them for friends and family there effectively saved the first colony—America's birthplace. Our early communities developed in tandem, and through the years, we have been staunch allies.
"Through the Revolutionary War, through the Second World War and the Cold War, when Bermuda was the site of strategic US military bases and through the Space Race, when we provided vital radar and telemetry backup for your astronauts. Incidentally, our relationship with NASA still continues today.
"So our bonds with the US are strong. We welcome many thousands of you every year to our shores. As tourists. As honeymooners. As some of the intellectual talent that helps fuel our international business sector.
"And next year we are home to the proud tradition of the America's Cup! So, come and visit. We'll show you how we build and protect our communities.
"You'll meet my fellow Bermudians—some of the most hospitable and welcoming people in the world; resilient families who have weathered storms just as you have here in New York. Ladies and gentlemen, it has been my privilege to spend some time with you today.
"It is my hope that by sharing with you Bermuda's hurricane experience, and our efforts to be resilient in the face of such natural disasters, that we are helping to fulfill this forum's theme of contributing to stronger, safer and more successful communities."
Read More About