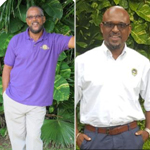 After 17 years of dedicated service, the Bermuda Public Services Union announced the retirement of Bro. Orin Simmons, Assistant General Secretary effective September 30th, 2016.
The BPSU said, "Bro. Orin contributed greatly to the success and stability of the BPSU and as an avid unionist, Bro. Orin fought diligently for the rights of our members.
"During his tenure at the BPSU, he obtained a Bachelor of Arts degree on June 26, 2000. His thirst for knowledge propelled Bro. Orin to Queens University where he obtained a Certificate in Labour Relations and engaged in additional studies in arbitration.
"On behalf of the Executive, the General Council, the Secretariat and our membership, we wish Bro. Orin a fulfilling retirement."
"The BPSU is pleased to announce the appointment of Bro. Kevin Grant as Assistant General Secretary effective Monday, October 3, 2016.
"Bro. Grant served as President of the BPSU from 2011 to 2014 and brings with him a wealth of knowledge and experience in negotiations, grievance handling and labour disputes.
"Bro. Grant participated in the BPSU Leadership Program in 1997, was a member of the negotiating team for collective bargaining agreements with the Bermuda Government from 2000 to 2014 and has served on the Labour Advisory Committee, the Joint Grading Panel and various BPSU committees.
"The BPSU looks forward to a long and rewarding relationship with Bro. Kevin Grant."
Read More About
Category: All