October 27 is World Occupational Therapy Day. Occupational therapists [OTs] work with all age groups and in a wide range of physical and psychosocial areas.
They are employed by Bermuda Hospitals Board at KEMH and MWI, the Department of Health and in private practice. OTs assess and plan short and long term treatments tailored to an individual and his or her occupation, habits and environment.
The Minister of Health and Seniors, Jeanne Atherden said, "OTs are vital members of any healthcare team.
"They help people with various illnesses and disabilities—like Alzheimer's disease, cerebral palsy, autism or the loss of a limb—adapt to their circumstances.
"As we plan for the future, I should note that the need for OTs is increasing and it is a very rewarding career for those who like to help people while working as part of a team".
The primary goal of occupational therapy is to enable people to participate in the activities of everyday life.
Occupational therapists achieve this outcome by working with people and communities to enhance their ability to engage in the occupations they want to, need to, or are expected to do, or by modifying the occupation or the environment to better support them.
Bermuda Occupational Therapy Assocation highlights the day [PDF here]: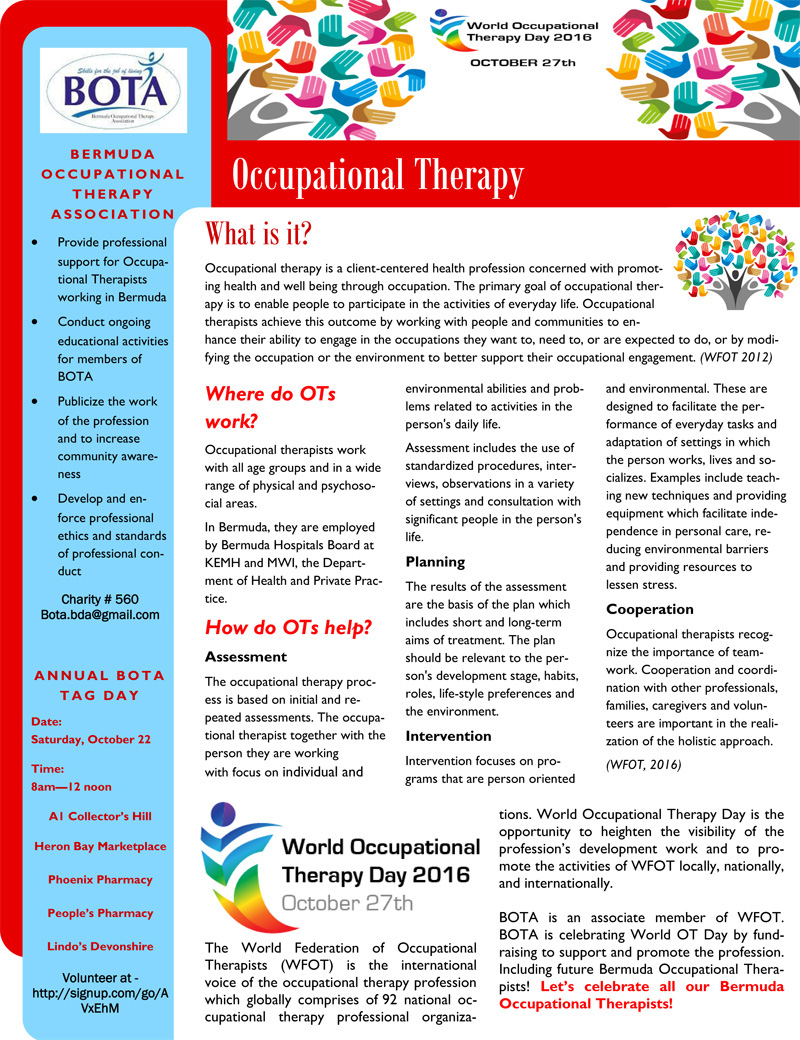 OTs provide advice on how to perform everyday tasks. They help adapt the settings in which the person works, lives and socializes. Examples include teaching new techniques and providing equipment which facilitates independence in personal care, reducing barriers in the home and office, and providing resources to lessen stress.
The Bermuda Occupational Therapy Association [BOTA] is one of 92 national occupational therapy organizations that make up the World Federation of Occupational Therapists. BOTA raises both awareness and funds in order to support and promote current and future OTs in Bermuda.

Read More About