Clarien Bank announced that Gibbons Company is the first of its merchant clients to transition to its enhanced new card payment system.
Gibbons' main department store successfully completed the conversion last week and is now able to accept both Chip and PIN and Chip and Signature card transactions through point-of-sale EMV [Europay, MasterCard, Visa] terminals.
Paula Clarke, CEO of Gibbons Company, uses her credit card at one of the company's new point-of-sale terminals with sales associate Shunae Burrows.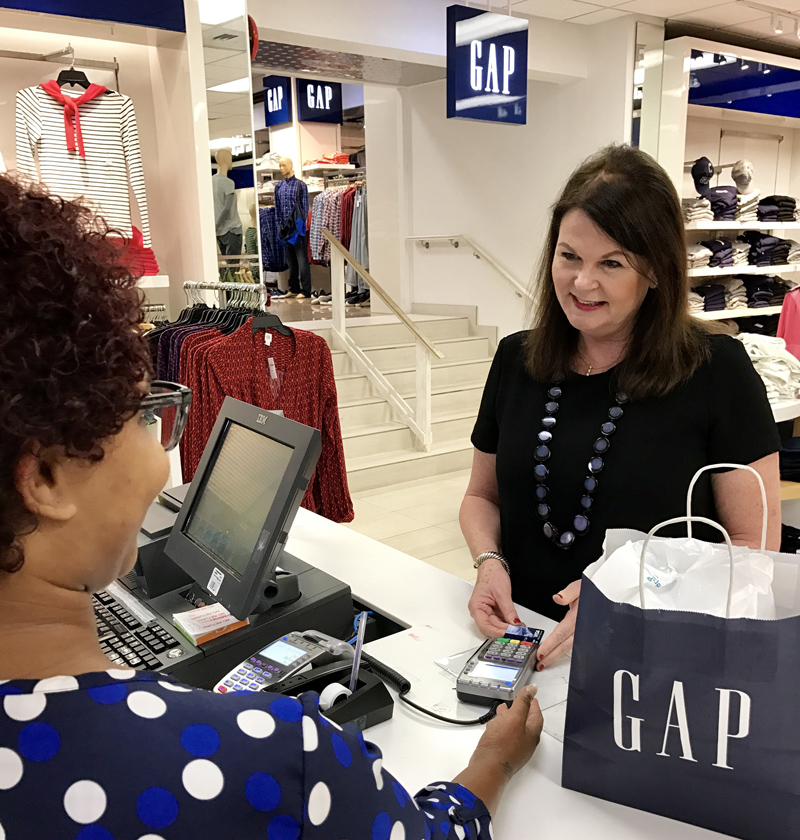 Paula Clarke, CEO of Gibbons Company, said the new system is a win-win for both the company and its customers.
She commented: "Gibbons Company is a customer-centric business and as such we are proud to be the first department store in Bermuda to offer the additional security benefits against the threat of cyber fraud that Chip and PIN and Chip and Signature provides for our customers.
"Our customers will recognise the technology from shopping overseas, our sales teams are fully trained and we again demonstrate that Gibbons Company is the leader in Bermuda by being current with world trends and industry standards."
Clarien said, "Payment processing is provided through First Data, the world's leading provider of electronic commerce and payment processing services. First Data has a global footprint of 6 million merchants in 118 countries and processes more than $1 trillion in card transactions a year.
"Service, support, POS terminal installation and management is provided by Thrive Payments and Primax, both divisions of T.K. Keith Company, Clarien's card services partner.
"Following the successful conversion of Gibbons Company, Clarien will be rolling out its new Merchant Services for commercial clients. Merchant Services provides a comprehensive new suite of secure and flexible credit and debit card payment and e-commerce solutions that enable businesses to accept transactions via point-of-sale terminals using the latest chip and pin technology, online or mobile devices."

Read More About
Category: All, Business, technology