A Tech Award presented to Bermuda Broadcasting last night signals the way forward the company, the BBC said this evening.
Judges chose their Bermuda Rio 2016 Olympic app as the Most Innovative Mobile App and presented CEO Patrick Singleton and his team with certificates and a trophy.
The annual Tech Awards, organized by the Bermuda Economic Development Corporation under the auspices of Government's Department of E-Commerce, are a highlight of Global Entrepreneurship Week.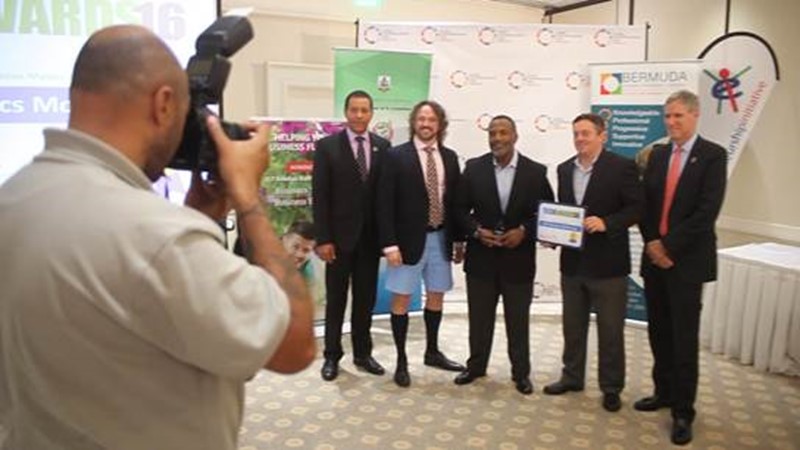 Dr. Grant Gibbons, Minister of Economic Development, handed out the awards in front of several hundred people who gathered at the Hamilton Princess.
"Our eight-minute video presentation, which explained how we built the app to provide a dozen channels of live Olympic action, was shown on a big screen at last night's event and drew an enthusiastic response," Mr Singleton said.
"The Bermuda Rio app, for Apple and Android devices, provided 13 channels of live Olympic action – an unprecedented achievement for local media.
"Tens of thousands of residents watched more than 100,000 hours of Olympic action, downloading some 400 million megabytes of data.
"Our social media video series included the exciting Bermuda Olympic blasts and revealing Athlete Profiles boosted social media traffic. Overall, our Olympic coverage attracted nearly 70,000 views on Facebook.
"The app was developed against the clock, after a destructive lightning strike hit Bermuda Broadcasting just months before the Olympics and threatened to cripple its ability to screen live action from the games. A global search for answers led to collaboration with IT solution providers in India, Canada and the UK.
"The app created a real buzz – not only among viewers and advertisers, but also, evidently, among fellow techies and media folk. Bermuda Broadcasting is truly honoured to win a 2016 Technology Innovation of the Year Award."
Ian Rawlins and Gary Foster Skelton, who were instrumental in the app's success, joined Mr Singleton on stage to receive the award. CFO David Hills, who backed the enterprise from the outset, was also present. Tony McWilliam scripted and put together the video presentation, along with Mr. Skelton.
Bermuda Broadcasting said they are "currently undergoing a technological transformation, shedding outdated equipment in a move to fully-digital output."
Mr. Singleton said, "This was very much a team effort and everyone at the Bermuda Broadcasting should take pride in what we have achieved. Innovation is the way forward for our company and this award paves the way for future successes as we modernize every aspect of our operations."

Read More About
Category: All, Business, technology