Marsh and Guy Carpenter made a donation to the Bermuda Red Cross for the purchase of a new electrical hoist.
Electric hoists are used to move immobile or near immobile individuals, most commonly out of bed and into a wheel chair. The electric hoists are primarily used by elderly people who have had strokes or have virtually no muscle strength. They can also be used by overweight individuals.
Jahan Cedenio of Bowring Marsh with Ann Spencer-Arscott, Executive Director, Bermuda Red Cross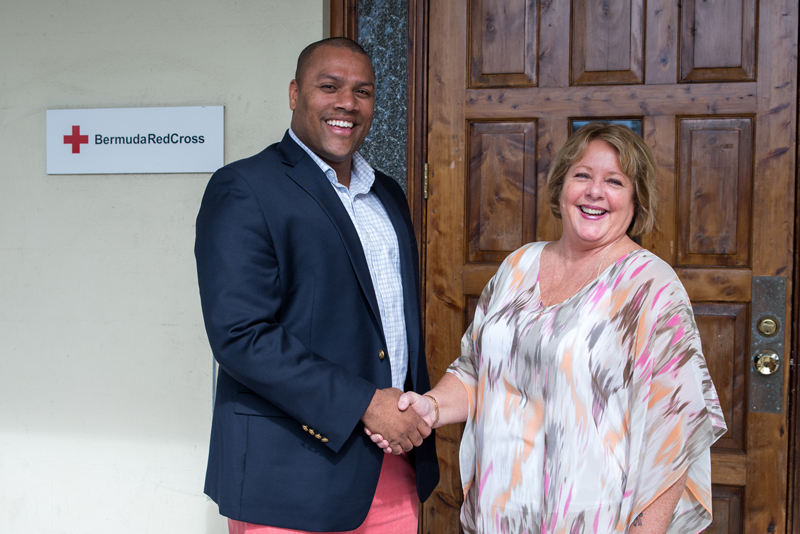 "I would like to thank Marsh and Guy Carpenter for providing us with a much-needed new electric hoist," said Ann Spencer-Arscott, Executive Director, Bermuda Red Cross.
"Due to an increase in the number of stroke victims, the demand for this device has been high. This donation has come at a very good time. We are reliant on the generous support of donors to purchase critical and expensive medical equipment that our community needs."
"The Red Cross is an organisation that we support worldwide on a corporate level," said Jill Husbands, Country Corporate Officer of Marsh & McLennan Companies, Bermuda and Chairman of MMC's Bermuda Corporate Social Responsibility Committee.
"It is a pleasure to be able to assist the Bermuda branch of the Red Cross with medical equipment that helps them to better serve our community and to improve the quality of life for people who need mobile assistance."
For more information about the Bermuda Red Cross, visit www.bermudaredcross.com.

Read More About