Governor Rena Lalgie recently launched the Bermuda Red Cross' fundraising campaign for 2021, dubbed Progressive Eats.
Governor Lalgie said, "Today as patron of Bermuda Red Cross, I am pleased to launch their unique fundraising campaign for 2021: Progressive Eats events.
"This is where in accepting the invitation, each guest agreed to host their own event within two weeks of attending as a guest. Guests are also asked to make a donation of a minimum of $10 to Bermuda Red Cross.
"For this first event, I have invited seven people to join me for afternoon tea at Government House. In accepting my invitation, they have each agreed to host an event of their own, inviting six people to their event within two weeks of today.
"Those 42 guests will be asked to host their own event by inviting five people and on it goes.
"I am well aware of the good work which is undertaken by Bermuda Red Cross within our community, as well as outside of these islands. If called upon to host one of the Progressive Eats events, I would urge you to do so and support this worthwhile organization."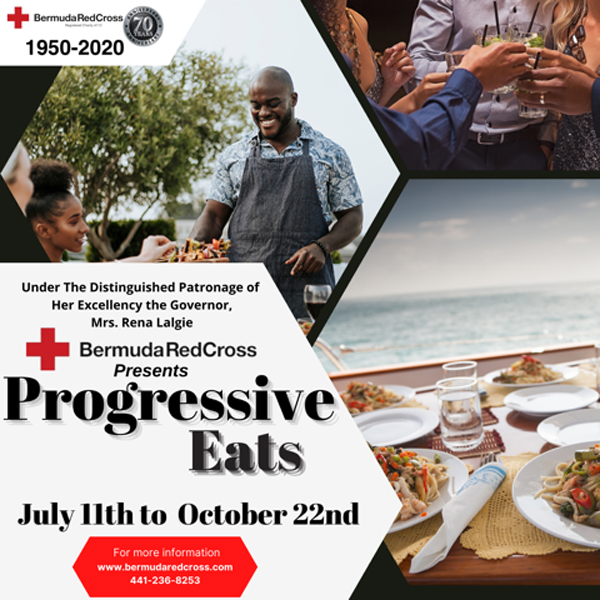 Bermuda Red Cross Fundraising and Communications Manager Claire-Anne Raynor said, "Bermuda Red Cross is known for having fun and enjoyable galas, but during these times we needed to think outside the box.
"Progressive Eats is a wonderful fundraiser that allows us to entertain guests in small, safe numbers, whilst supporting Bermuda Red Cross as we support our community through our different services, CPR/First Aid/AED Training for Adult, Infant & Children, Equipment Rental, Thrift Shop, Disaster Management, Transport Service and Golden Hour.
"When putting this event together, we thought we should give some ideas of things that hosts can do. They are:
Morning Coffee/Tea
Codfish Breakfast/Brunch
Lunch
Pool/Boat party
Afternoon tea
Barbeque
Cocktail Party
Dinner Party
Starters & Desserts
Drinks or Nibbles after a game of golf/tennis/exercise
"The progression will continue:
42 persons will each host 5 people.
210 people will host their own event and invite 4 people
840 people will host their own event and invite 3 people
2,520 people will host their own event and invite 2 people
Finally, the last 5,040 people will host their own event and invite 1 person.
"Since we are in the heart of summer, this is a perfect opportunity to entertain guests and support this worthy non-profit that has been around for 71 years. By the end of the events, there will have been 13,700 people involved and contributing to and learning more about Bermuda Red Cross.
"The aim is to have this fundraiser completed by October 22nd. It is our goal to raise $130,700 through this fundraiser and the funds will be used to support the important services Bermuda Red Cross offers to the community.
"Ann Spencer-Arscott, Executive Director, said she has been excited about finally getting this event off the ground, and now is a perfect time to launch it as the numbers for socializing during the pandemic have stabalized, allowing all involved to host their events freely."

Read More About
Category: All