At the conclusion of a successful Halloween promotion, KFC raised $1,289 in support of Bermuda Red Cross after selling Treat Voucher booklets at their Queen Street, Hamilton location.
For only one dollar, packets of 5 vouchers were available from KFC with each voucher redeemable for either an apple turnover, one order of French fries or a chocolate chip cookie. All of the vouchers are valid until January 31st, 2017. These vouchers were available through the entire month of October.
 Akilah Taylor, Ginene McSwain, Suzanne DeCouto and Tamika Zuill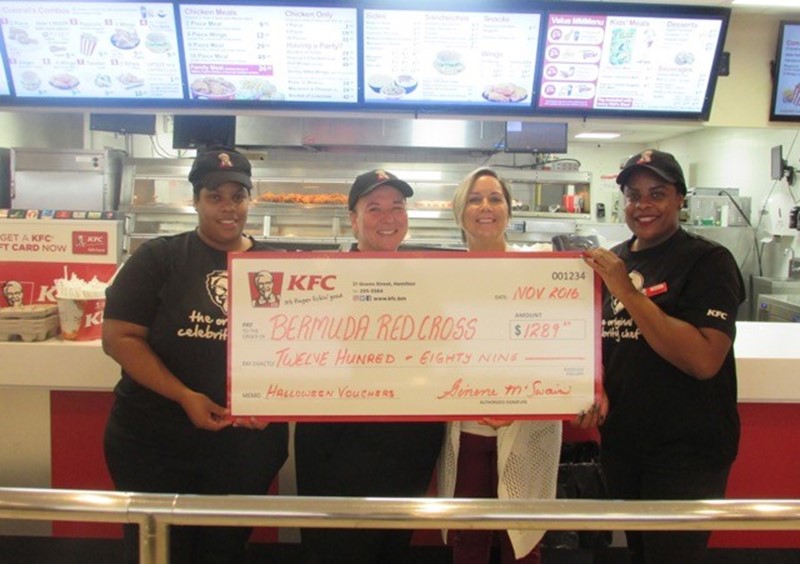 Ms. Suzanne DeCouto, Fundraising and Communications Manager at Bermuda Red Cross, said, "Following the success of last year, we were hoping KFC would do it again this year.
"I cannot tell you how many times I was approached by children and parents asking about this promotion. Considering the time of the year, Bermuda Red Cross would like to take this opportunity to thank KFC and its customers for supporting us".
Ms. Ginene McSwain, General Manager of KFC, says, "The process was simple and well enjoyed. We were happy to raise $1,289 in support of Bermuda Red Cross to help with their local programs serving Bermuda's communities".
Bermuda Red Cross and KFC also thanked all of their patrons for their ongoing support.
Read More About
Category: All, Entertainment, News