The Corona League has unveiled BTC as the new sponsor of their Cup competition. The telecoms and internet provider has agreed a two-year deal which will see them become title sponsor with the tournament now called the BTC Cup.
The 2016/2017 also sees a new format with the introduction of a group stage, rather than the previous straight up knock-out format, with three groups of three teams. Group games will be played on the 9th December, the 20th January and the 17th February.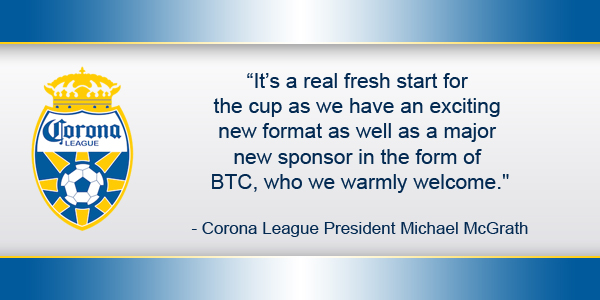 Two group topping teams will be drawn out the Cup for a bye for the first knock-out round which will decide who meets them in the semi-finals.
The knock-out night takes place on the 1st March before the semi-finals on the 10th March. The final will take place on the 21st April with all games played at the BAA Goose Gosling Field.
Michael McGrath, president of the Corona League said, "It's a real fresh start for the Cup as we have an exciting new format as well as a major new sponsor in the form of BTC, who we warmly welcome.
"We're confident the addition of the group stage will provide more competitive games and excitement for the players and fans. As group stages are good enough for the UEFA Champion's League they're good enough for the BTC Cup!"
"When we were approached by the Corona League to become the sponsor of the Cup we didn't have to give it much thought," explained Chris Wright from BTC.
"Like BTC, the league and the Cup play such a big part in Bermudian life that is was a natural fit.
"We're big football fans here, with the annual match against BELCO a real highlight among staff and I know many of them compete in the Corona League and love it. We're looking forward to the next two years, and the small matter of the draw this Thursday which will no doubt result in some interesting matches."
The sponsorship of the Cup adds to BTC's sports sponsorships which also includes Beat the Couch, the Bermuda Cricket Umpires Association and the u-12 Super Summer Cricket Series who they co-sponsor with Digicel.

Read More About