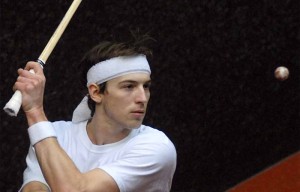 Bermuda's James Stout, and his partner, Jonathan Larken, clinched the Rackets World Doubles Challenge at the Racquet and Tennis Club in Manhattan over the world champions, Alex Titchener-Barrett and Christian Portz.
With the score standing at 2-1 to the challengers, and with the 4-1 lead they had built the previous week in London, the aggregate score was 6-2 in their favour.
At this point, Titchener-Barrett and Portz would be able to win a maximum of only five games, and so Stout and Larken won the title after little more than an hour's play. The game scores were 6-15, 17-14, 15-5.
The match followed the same pattern as the first leg. Stout and Larken started slowly in the first game, whereas the champions were in good form. Before too long the challengers found themselves 9-1 down, and then 14-6 down before Titchener-Barrett and Portz closed out the first game 15-6.
The challengers were stronger in the second game but let an 11-7 lead slip through their fingers, and found themselves down game ball at 14-12. A spectacular winner from Stout at this stage gave him and Larken service, and they levelled the game at 14-all.
Both teams needed a further three points to claim the game. The champions celebrated when Stout and Larken were both put out without scoring, but to theirdismay the same thing happened to them. This time Stout served brilliantly to close out the game 17-14. Now the challengers need to win just one more game to claim the world title.
Stout established a 6-0 lead at the start of the third game, and after several service changes Larken made his mark with some perfect length serves, to take the score to 10-2. The match now had an air of inevitability about it. From 12-5 up, Stout served out the remaining three points that he and Larken needed to claim the world title.
Playing together, Stout and Larken have won the British Open in 2015 and the U.S. Open in 2015 and 2016. The world doubles title will be next contested in 2018.
For a detailed match report, visit the website.

Read More About