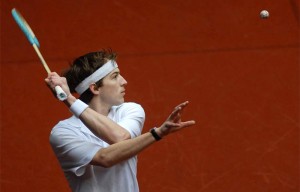 On Saturday afternoon at The Queen's Club, London, Bermuda's James Stout and his partner for the past two seasons, Jonathan Larken won the first leg of their World Rackets Doubles title challenge against the current holders, Alex Titchener-Barrett and Christian Portz.
The score, in the best of seven games match, was 4-1: 9/15, 15/8, 15/5, 15/5, 15/4. The match lasted two hours.
After a slow start and losing the first game, Stout [the world singles champion since 2008] and Larken began the second game strongly yet were still playing with a lack of conviction. From the third game onwards they were more confident and took commanding leads early in those games, which Titchener-Barrett and Portz never looked like overcoming.
The second leg will be held at 2:00 p.m. at The Racquet and Tennis Club, Manhattan. The challengers need to win two games to claim the world title.
There is a detailed match report here.

Read More About