This week the Department of Community and Cultural Affairs will join Shirley Pearman for the launch of her highly-anticipated book, Hands On! The Art of Traditional Crafts and Play in Bermuda.
Hands On! is a book that frames the experience of childhood play within the context of Bermuda's seasons. Accompanying this exploration of play and reflections on Bermudian childhood is a step-by-step 'how to' guide for dozens of traditional crafts and toys such as: traditional Bermuda kites, tissue paper carnations, memory scrapbooks, banana dolls, bay grape leaf angels, comic book movie boxes, turkey bone dolls and many, many more.
Part craft book, part memoir and part cultural preservation, the book has been a labour of love for Mrs. Pearman, who first began collecting this material as far back as 2001 in preparation for the Smithsonian Folklife Festival.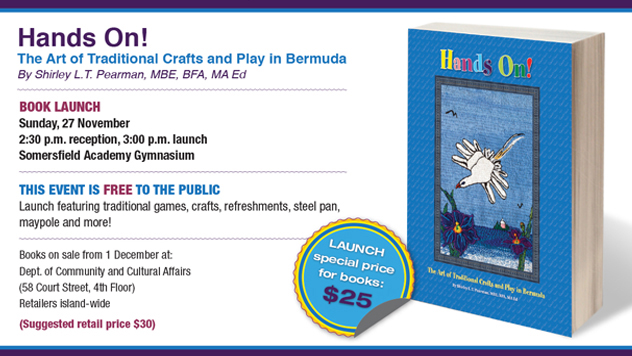 The book is produced by Department of Community and Cultural Affairs with design and pre-press production by Department of Communication & Information.
The Department's Folklife Officer, Dr Kim Dismont Robinson said, "This collection provides a marvelous opportunity for our children to learn about a different era in Bermuda – a time when iPads didn't exist and toys were often spun from the imagination and whatever happened to be readily available in the home or backyard.
"The crafts in the book remind us that there was a time when creativity was perhaps the greatest tool in the construction of childhood happiness."
Minister of Social Development and Sports Sylvan Richards said: "Flipping through this book is guaranteed to fill any Bermudian with a strong sense of nostalgia for days gone by.
"Whether made of fennel sticks and brown paper or brightly-coloured tissue, what Bermudian child has not enjoyed the soaring kites of springtime…or combed the shoreline in a small wooden punt looking for 'treasures'?
"I am so pleased that Mrs. Pearman and the people that she interviewed took the time to record these traditional pastimes. Through this practical direction, the modern Bermudian child can experience the same kind of timeless enjoyment as that experienced by their parents and grandparents."
Copies of the book will be available for a special price of $25 at the launch, which will be at Somersfield Academy Gymnasium on Sunday November 27 beginning at 2:30 p.m. The launch will feature refreshments, demonstrations and entertainment including steel pan, maypole and jump rope. Attendance is free to the public.
Following the launch, the books will be available from December 1 at the Department of Community and Cultural Affairs and retailers island wide for the suggested retail price of $30. For more information call 292-1681.

Read More About
Category: All, Entertainment