Now in its fourteenth year, the Toys for Tots initiative is aiming to collect more than 1,200 toys from around Bermuda this season.
Toys for Tots began in 1947 as an initiative supported by the US Marine Corp. It was introduced to Bermuda by Kim Webb in 2002 and Toys for Tots has since been an annual partnership between Coldwell Banker Bermuda Realty and The Coalition for the Protection of Children that involves collecting toys from the around the island to be provided to underprivileged children within the community.
A spokesperson said, "The initiative is now in its 14th successful year, with a goal of collecting over 1,200 toys this year. We collect gifts for children between the ages of newborn and sixteen years of age.
"In addition to toys, games and sports equipment, we also encourage the community to purchase gifts for those in the teenage category- so gift certificates from retail outlets and beauty products, movies, bowling, or mini golf would be perfect.
"The majority of children who will benefit from these gifts are part of families that are supported year round by the Coalition. However, due to relationships that the Coalition has with other charitable entities, toys are often also provided to other organizations such as Big Brothers Big Sisters and the Department of Child and Family Services.
"The purpose of this initiative is to give these children a Christmas experience that they may not have enjoyed otherwise. It is about giving them a bit of happiness and joy that we so often take for granted."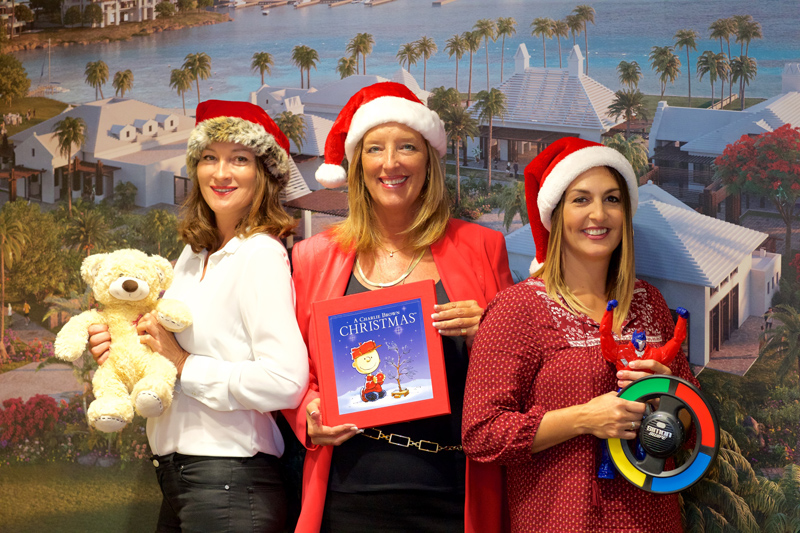 "Toys should be new and unwrapped and delivered to Coldwell Banker Bermuda Realty before November 30th, 2016. Additional drop off locations are at the Annex Toy Store, Hunt's [Warwick]/Heaven Sent Baby Boutique, Arnold's Discount Warehouse, Little People's Toys, Al-Mil Enterprise [Flatts], PriceRite [Mills Creek] and Gorham's.
"There are plenty of places to drop off toys, so just look for the huge RED box with the Toys for Tots posters on them."
"In addition to the drop off locations, many of our local companies have started their own collection within their organization. This has been an amazing gesture from the corporate community and we are so thankful for their support.
"On December 2nd, the toys will be picked up from Coldwell Banker Bermuda Realty by Joe Vieira Trucking and taken to the Coalition for the Protection of Children. As a thank you to the community, the toys [and some elves!] will travel through Hamilton, before making their way to the Coalition. Keep a look out for Santa and his helpers as they parade through the streets of the city around lunch time.
"Once the toys have been delivered to the Coalition, the wonderful staff at the Coalition, along with many volunteers, will wrap all the gifts. They are then given out to the children at the Coalition's annual Christmas party.
"Any questions regarding this very special initiative should be directed to our elves, Kim Webb [Sales Representative] 247-1821, Angela Hanwell [Sales Representative] 247-1833 or Clare Marshall [Sales Representative] 247-1829 at Coldwell Banker Bermuda Realty."

Read More About
Category: All, Entertainment