[Written by Don Burgess]
According to some within the PLP, David Burt is the favourite to become the next leader after the shock resignation from politics by Marc Bean yesterday.
Mr. Bean's resignation caught many PLP insiders off guard. A special delegates conference will have to be convened within seven days and the Opposition will select their new leader heading into an election year cycle.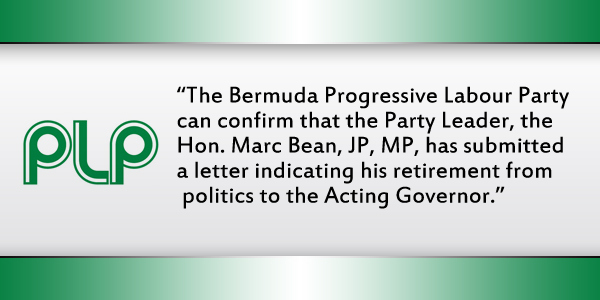 Bernews spoke to five party officials to get their take on who the new Opposition Leader could be.
One PLP party official told Bernews while David Burt — who has been serving as Deputy Leader — is an obvious candidate to put his name up for consideration other contenders could be Zane DeSilva, Michael Weeks, and possibly Dennis Lister or Walter Roban.
Another party official said that Kim Wilson might also decide to throw her hat into the ring.
Mr. Weeks, Mr. Roban and Mr. Burt all declined comment at this point while Mr. Lister and Mr. DeSilva were not able to be reached and Ms. Wilson was not available for comment.
PLP MP Jamahl Simmons said the party and the country had suffered a great loss with Mr. Bean's resignation.
He added: "His family's gain is Bermuda's loss. His family has sacrificed time for him to be with us. Bermuda has lost one of the most honest men in politics."
Mr. Simmons did not wish to discuss who might replace Mr. Bean.
However, a PLP MP said: "The most likely Party Leader will be David Burt. They can challenge him if they want but they won't have the support he has."
The PLP party official added: "What happened was a complete surprise to most. No one knew he was going to retire or resign.
"This was completely out in left field for most; the chairman didn't know, the executive didn't know, the caucus didn't know.
"There will undoubtedly be key persons trying to run for leadership, but very few have the passion and ability to be the Party Leader, and, by extension, possibly be Premier.
"Not just for the party, we need someone who is best suited to potentially lead the country in the next year."
The PLP party official added the next Leader should be someone who appeals to the broader community and someone who is well aware of Bermuda's current economic situation.
The person added: "We need someone who will lead by consensus and not through dictatorship."
A different PLP official said "David [Burt] will probably be anointed – like no one else put their name forward for ease of transition, but I hear Zane [DeSilva] may want it so in reality it will be at least a two-man race and at most a four-man race.
"One scenario could be Zane and David and for a three-man race: Zane, David and Michael Weeks. If it's a four-person race, you could see [Walter] Roban or Kim Wilson get into the mix."
Read More About