[Written by Dr Sekar Kathiresan]
We often hear people say "it's in my genes" when referring to any number of diseases. But as a doctor and researcher, it's now clear to me that when it comes to heart disease, DNA is not necessarily your destiny.
My team at Massachusetts General Hospital and the Center for Human Genetic Research recently analyzed more than 55,000 people who were genetically at risk for heart disease, but were also following a lifestyle that included not smoking, exercising moderately, and a diet featuring fruits, vegetables, fish, and grains. The findings were significant. Our study shows that a healthy lifestyle could cut in half even the worst genetic risk for a heart attack.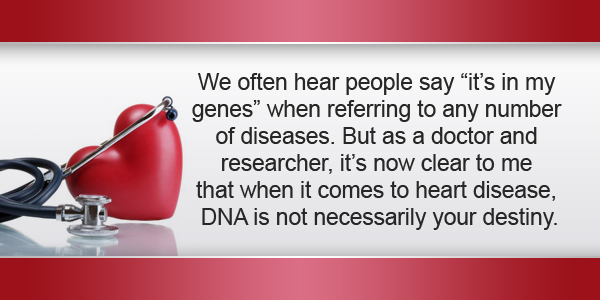 Similarly important, the results published in the New England Journal of Medicine last month indicate poor habits can erase about half of the benefits of good genetics.
In the U.S. alone, coronary artery disease accounts for nearly 1.5 million heart attacks and strokes each year and is the leading cause of death amongst both men and women. Worldwide, we see about 17.3 million deaths from heart disease. It is my hope to see us turn the tide on these numbers.
About a year and a half ago, the team at MGH began examining existing data from four large studies from the U.S. and Sweden, with genetic details on participants, information on their lifestyles, and outcomes on whether those participants developed heart disease.
The first data set involved black and white Americans ages 45 to 64. In that group, a good lifestyle in those with the highest genetic risk cut the 10-year probability of heart disease from 10.7 percent to 5.1 percent. A second study involved more than 20,000 American women ages 45 and older whose 10-year risk fell from 4.6 percent to 2 percent in the high-risk group.
In a third study, Swedish participants ages 44 to 73 saw their 10-year risk lowered from 8.2 percent to 5.3 percent. And in a fourth study of Americans between 55 and 80 years old, those with genetic risk but a healthy lifestyle had significantly less calcium, a sign of heart disease, in their coronary arteries.
Going forward, we need to investigate which daily habits can have the biggest impact on your heart. We also realize the need to conduct studies in more diverse populations, since most of the participants we looked at were white.
The immediate take-away? You are in control when it comes to your heart health. Don't be daunted by your family history or let a bad genetic hand get in the way of making changes to your lifestyle today.
- Dr Sekar Kathiresan is the Director of the Center for Human Genetic Research at Massachusetts General Hospital. For more information about Cardiology at Massachusetts General Hospital click here, and to learn more about how to lower your risk of developing coronary artery disease, watch this video.

20 Most Recent Opinion Columns

Opinion columns reflect the views of the writer, and not those of Bernews Ltd. To submit an Opinion Column/Letter to the Editor, please email info@bernews.com. Bernews welcomes submissions, and while there are no length restrictions, all columns must be signed by the writer's real name.
-

Read More About
Category: All