BF&M and Open Airways have revealed that Allen Carr's Easyway to Stop Smoking program will once again be making a stop in Bermuda, with the seminar to take place on January 7.
The program promises to help participants to quit smoking with "no will power, no withdrawal, and no weight gain."
A spokesperson said, "Over the past 30 years an estimated 10 million people have used Allen Carr's unique, simple, drug-free Easyway method and are now happy non-smokers. Open Airways and BF&M are bringing this highly successful workshop, led by renowned speaker, Damian O'Hara, back to Bermuda on January 7, 2017.
"The Easyway to Stop Smoking method was developed by Allen Carr, a former chain-smoker. In July 1983, after countless miserable attempts to quit, Allen discovered what every smoker dreams of: an effective, immediate and easy way to quit. Since then an estimated ten million smokers have quit using his unique Easyway method.
"Unlike other methods that involve substitution or will power, Allen Carr's method makes stopping smoking easy by teaching smokers how to reframe smoking in a way that completely removes the desire to smoke.
"On Saturday, January 7th, local smokers in Bermuda will once again have the opportunity to 'quit the habit', joining the ranks of former Easyway success stories – Sir Anthony Hopkins, Ellen DeGeneres, Sir Richard Branson, Anjelica Huston and many more."
For more information, visit the website or call 238-3261.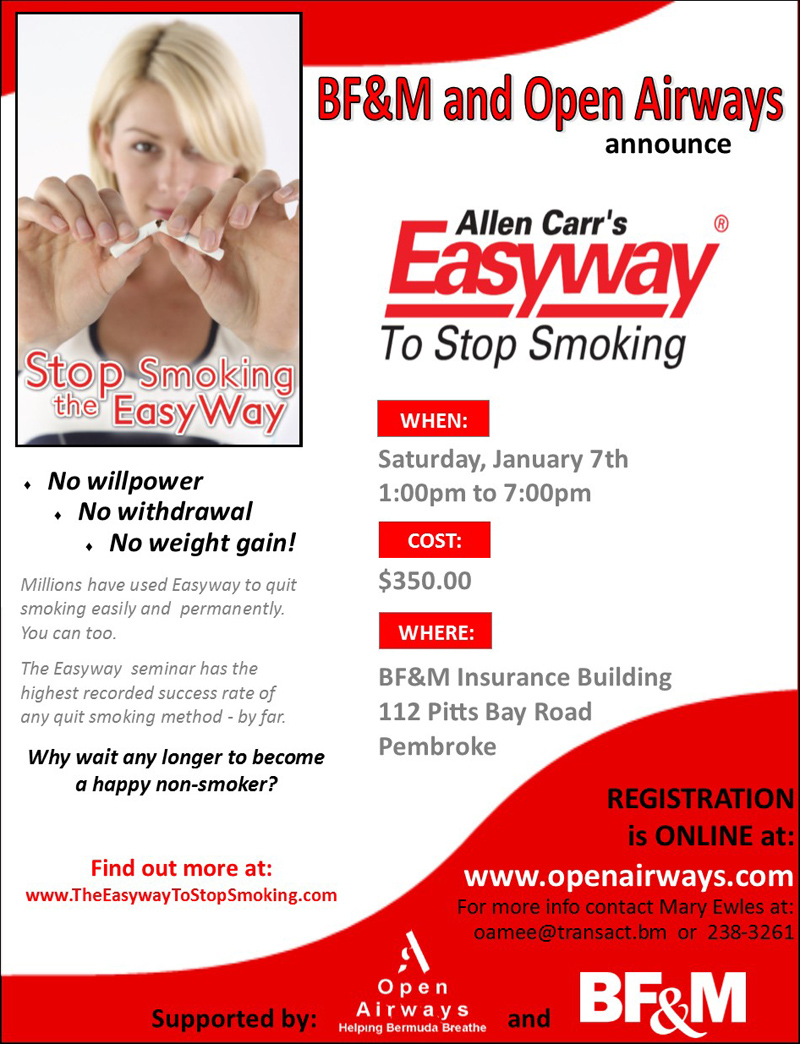 Read More About
Category: All