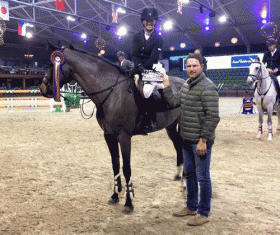 Bermudian equestrian Jillian Terceira continued competing in the CSI2* / CSI1* / CSIYH1* International Lier Horse Jumping Event in Azelhof, Belgium.
On the third day, Terceira competed in three classes, recording a win on the day.
Terceira grabbed the victory in the first CSI2 * stage of the day the 1.30m Table A Against the Clock Class.
On the back of Amarulla, the duo crossed the finish line in a Clear Round time of 57.93.
Terceira and Chakova finished 28th competing in the CSI1* 1.20m Table A Against the Clock Class, they clocked a time of 70.64, but they also had 5 Penalty Fault Points.
Competing in the CSI2* 1.45m – LONGINES RANKING COMPETITION Table A with a Jump Off Class, Terceira and Tamerino finished 34th with a time of 70.46 and they had 8 Penalty Fault Points.

Read More About