"Let's all celebrate Happy Holidays and healthy beaches," Keep Bermuda Beautiful said in advance of the annual Christmas Day gathering at Elbow Beach, adding that "everyone benefits by working together and keeping our beaches beautiful and litter-free."
KBB said, "Each year the Christmas Day party at Elbow Beach gets bigger and bigger. People put on Santa hats, pack a cooler and head to the public beach to meet up with friends and family. While the party-goers enjoy the morning and mid-day fun, there are organizations that are helping behind-the-scenes to make it a successful event.
"The Coral Beach & Tennis Club will allow people to park on the Horizons property. St. Paul's Anglican Church volunteers will help with free parking. Any donations to the church will be gratefully accepted. Party-goers are reminded to avoid a parking ticket and park safely at Horizons.
"Although this event is not hosted by KBB, Keep Bermuda Beautiful will put out extra trash bins down on the beach as well as in the parking lot to capture all the picnic debris. On Boxing Day, KBB volunteers will return to the beach to re-sort all the recycling items and bag up all the trash and carry it up the steps to the parking lot.
"The Department of Parks waste collection team will haul the bagged trash away, so that as quickly as possible the beach can become spotless for the remainder of the holiday period.
Community Partners: Nik Bhola, Coral Beach Club; Anne Hyde, KBB; PC Krishna Singh, Police CAT Team; Rev. Anthony Pettit, St. Paul's Church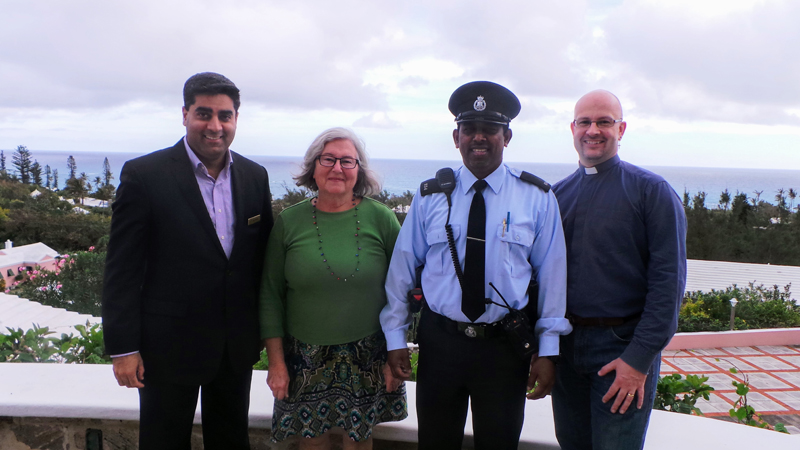 KBB Executive Director, Anne Hyde, says, "KBB has been assisting the Department of Parks for the past eight years in making sure that there are enough trash bins for the Christmas Day celebrations, as well as helping to move the trash off the beach as quickly as possible before any of it blows into the ocean.
"We are very grateful that this has evolved into a collaborative effort with other local stakeholders coming together to make sure that this is a safe and eco-friendly event."
Mr. Nik Bhola, General Manager at Coral Beach & Tennis Club has arranged for the Horizon's property to be available for parking. The Rev. Anthony Pettit at St. Paul's Anglican Church and his team of volunteers will assist with parking and if anyone would like to make a small donation to the church that will be gratefully received.
"The extra trash cans from W&E's Waste Management Section will be placed on the beach by KBB volunteers on Christmas Eve and removed on Boxing Day. Ms. Claudette Baisden, Acting Parks Officer, will arrange for the collected trash to be removed from the parking lot as soon as possible over the holiday period.
A past Christmas Day at Elbow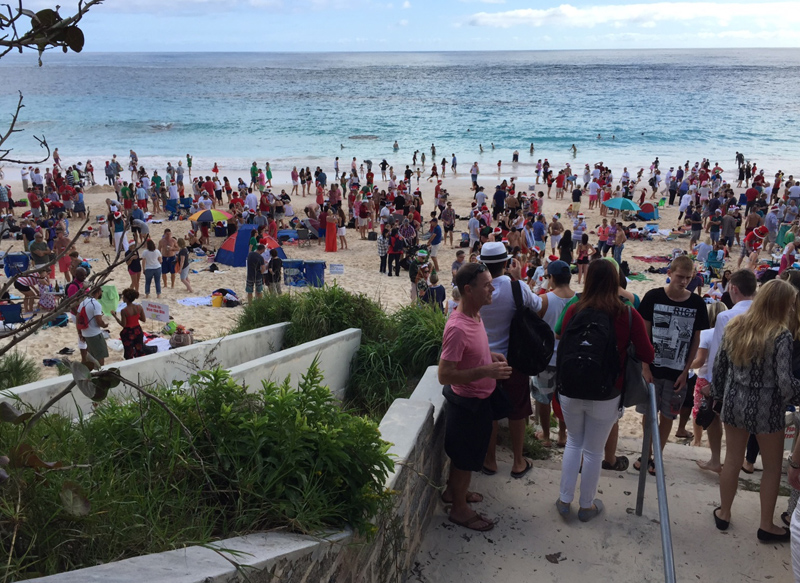 KBB added, "People who are planning to go to the public beach at Elbow for Christmas Day are asked by KBB to assist by helping to clear the beach of all litter and debris. Use the trash bins. Help if you can by carrying your trash up the steps to the trash bins in the parking lot. Park safely at Horizon's and avoid the possibility of getting a parking ticket.
"Guest workers with nowhere to spend Christmas dinner started the gathering at Elbow Beach years ago and it has evolved over the years to include locals and visitors. Last year nearly 2,000 people attended.
"There is no one who is the organizer or host of this event. It has simply morphed, and surprisingly, the party-goers are respectful of the beach and faithfully use the trash bins. KBB volunteers moved more than 2,000 pounds of debris off the beach the next day at KBB's Boxing Day cleanup.
"The Department of Parks cannot be expected to do it all especially during the holidays, so KBB has willingly stepped in to help with community service.
KBB photo of Boxing Day volunteers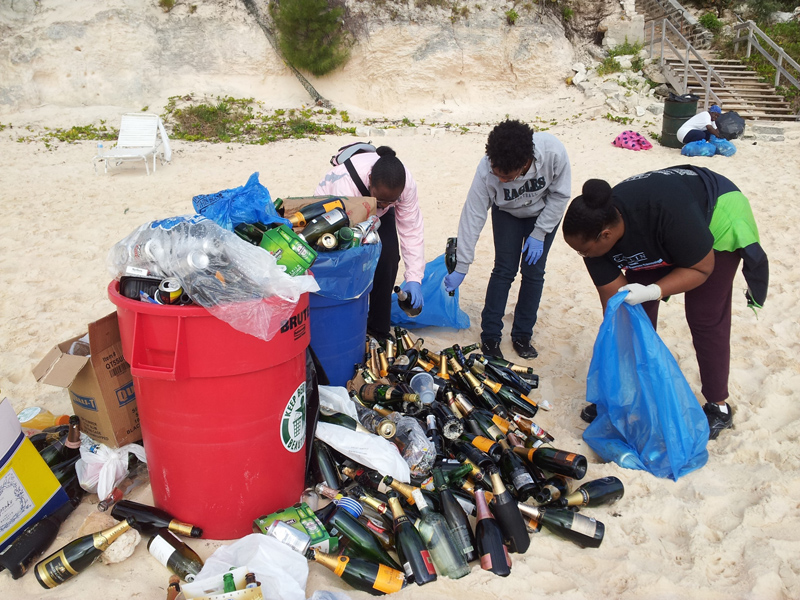 "This year we are reminding attendees to use the trash bins, or even better, bring their trash off the beach and dispose of at home. There are no event organizers or cleaners, but with everyone's help, this can become a 'Leave No Trace' event. Let's all celebrate Happy Holidays and healthy beaches. All are welcome to return to Elbow Beach on Boxing Day from 10 am – 12 pm and help with the KBB cleanup," says Ms. Hyde.
Everyone benefits by working together and keeping our beaches beautiful and litter-free, KBB added.

Read More About
Category: All, Entertainment, Environment, News