Noting the Covid-19 restrictions and hurricane damage to the public access at Elbow Beach, Keep Bermuda Beautiful has advised the public that "they should not plan to celebrate Christmas at Elbow Beach."
A spokesperson said, "It has become a Bermuda tradition to go to the beach on Christmas morning, but this will not be the case this year. Due to Covid-19 restrictions and extensive hurricane damage to the public access at Elbow Beach, Keep Bermuda Beautiful wants to alert the public they should not plan to celebrate Christmas at Elbow Beach.
Crowds at Elbow Beach on Christmas Day back in 2018:
"This year's hurricane season took away most of the sand from the beach and the access stairway is unsafe at the public entrance to Elbow Beach. People should make alternate plans to stay within their family nucleus, maybe play a backyard game, or go for a walk in their neighbourhood, and follow the Health Department regulations to skip large gatherings this holiday season.
"Over the last decade, KBB has assisted the Christmas Day at Elbow gathering by putting extra waste bins on the beach, arranging safe parking at Horizons courtesy of the Coral Beach Club with St. Paul's Church volunteers assisting with parking. On Boxing Day KBB volunteers assist the Parks Department with waste removal from the event.
"This collaborative approach has been a successful model with thousands of beach-goers showing up in holiday costumes and having a fun family morning at the beach before going off to their traditional Christmas dinners.
"It has been the closest thing to a 'litter-free event' with everybody using the designated waste and recycling bins and being respectful of the environment. This fact is particularly remarkable considering that this annual event is not hosted or sponsored by anyone.
"It has simply morphed from a few people to a throng of thousands and, over the years, has become a Christmas tradition for many residents and visitors. But as we all know, the year 2020 is not a normal year, and we need to be flexible and make some sacrifices to stay safe during this pandemic.
"On top of that, the public beach at Elbow is nearly sandless and there is a big drop down from the bottom of the stairs to the beach and boulders below which is unsafe in its present state.
A look at the damage to the steps at Elbow Beach following a hurricane in September of this year: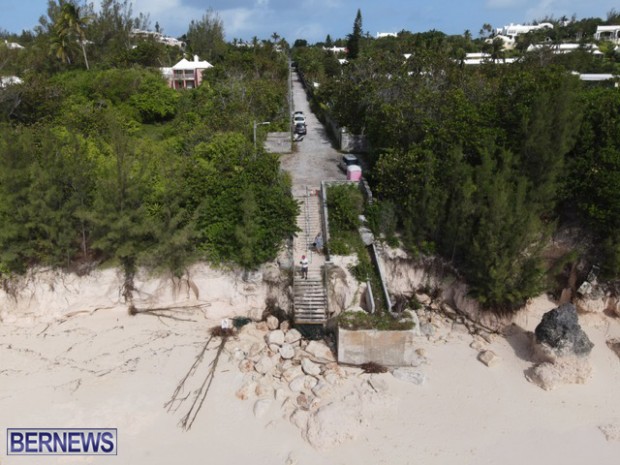 "KBB will not be placing any extra bins on any beaches this holiday. If you do go out to a public park or beach, please dispose of your trash responsibly and if the public waste bins are full, take your trash home with you.
"KBB wishes to advise that they will skip this year but intend to be back assisting next year. Our usual community collaborators at Coral Beach Club, St. Paul's Anglican Church and others all agree with the decision to skip this year for the safety of the public.
"Dennie O'Connor of Tobacco Bay in collaboration with Big Brothers & Big Sisters [BBBS] will postpone their usual Christmas Day at Elbow celebration with entertainment and beverages until next year. We wish everyone a safe and socially distanced Christmas and Happy New Year."

Read More About
Category: All, Entertainment, News