Oracle Team USA has wrapped up its 2016 season with the team breaking for a three-week stretch over the Christmas holidays.
When the team returns to its Bermuda base on January 4, it will be for a final, intense push to be ready to defend the America's Cup in June 2017.
Like other America's Cup competitors, Oracle Team USA has been running parallel programs in 2016 – racing in the Louis Vuitton America's Cup World Series is one stream; designing and building a new America's Cup Class boat to race in 2017 is the other.
Tactician Tom Slingsby hiking hard in Fukuoka, Japan. Photo by Ricardo Pinto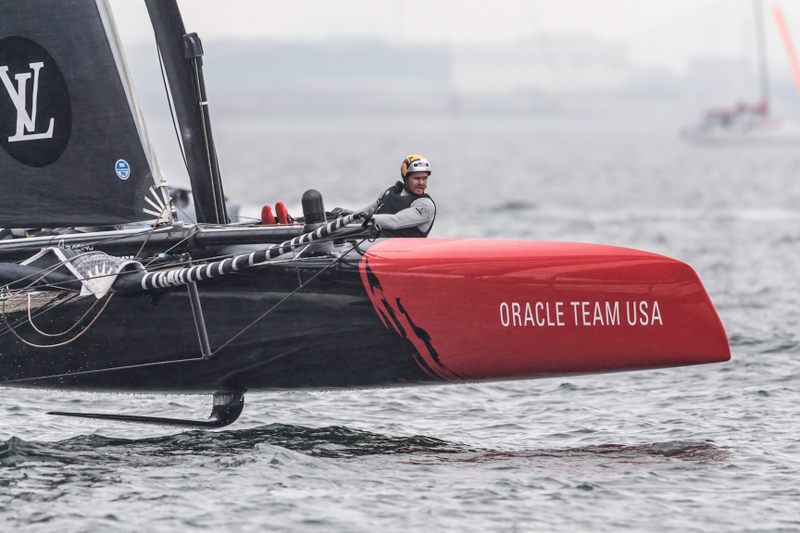 Last month, in Fukuoka Japan, Oracle Team USA earned a second place finish on the overall Louis Vuitton America's Cup World Series leaderboard and collected an important bonus point to carry forward into the Louis Vuitton America's Cup Qualifiers in May next year. And with the end of the series, the focus shifts from racing to development.
"It's a bit of a relief to narrow the focus now on the new boat and the racing next summer," said sailing team manager and tactician Tom Slingsby.
Slingsby says the time off over the holiday period is both welcome and necessary.
"This is the last break that we'll have before racing starts at the end of May next year," he says. "We've been a some pretty long stretches already and the hours we put in will only increase as the first race day approaches. So I want all the guys to take this time to get refreshed before coming back next year."
The program in 2017 is a mix of boat development, scouting the opposition and race readiness.
"Commissioning the America's Cup Class boat and getting it on the water will be the initial focus," he says. "Then we'll really be taking a look at the other teams: who do we feel is our toughest opposition, what do they do well, how do we adapt and counter that?
"Finally, we'll be focused on our race crew, getting the race laps in, perfecting our playbooks and being ready to go on day one."

Read More About