Students at Saltus Grammar School were given top marks by the CEO of America's Cup team, SoftBank Team Japan after coming up with new designs for sails.
As part a graphic design project incorporating the America's Cup theme, Design Technology Teacher Patrick Mahon asked S7 DT students to redesign the graphics for the AC45 sails.
Students were told to research the teams they were assigned, and then create a series of design ideas which formed the basis for the final designs.
From the left: Mia Barker [2nd Place], Cierra Ray [Finalist], Kyra Vieira [3rd Place], Dean Barker [CEO, SoftBank – Team Japan], Caitlyn Brodie [Finalist], Christopher Davidson [1st Place] and Kyra Adams [Finalist]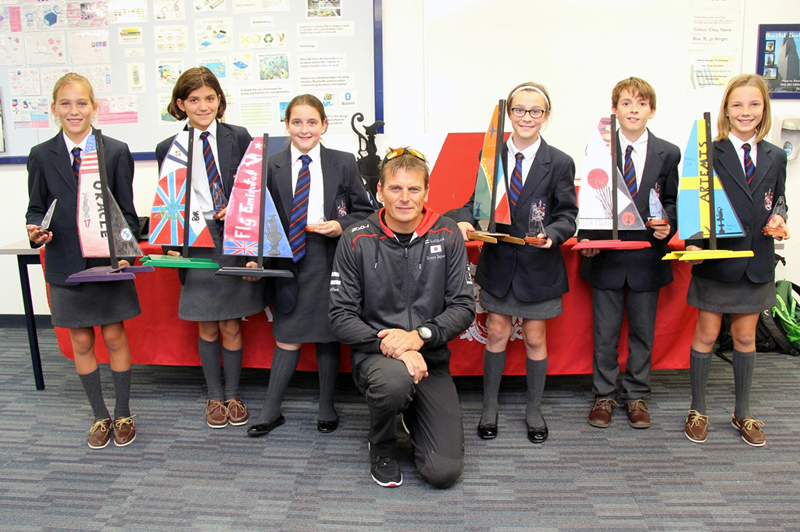 Mr Mahon said: "The students were enthusiastic and excited about this project and created a series of fantastic designs."
Phillip Heap, Head of DT, and Mr Mahon chose the six finalists whose designs were judged by Dean Barker, CEO of SoftBank — Team Japan.
Christopher Davidson was awarded first place, second was Mia Barker and third was Kyra Vieira. The other finalists were Cierra Ray, Kyra Adams and Caitlyn Brodie.
In addition to the trophies, Mr Barker presented each of the students with a SoftBank cap and wrist band.

Read More About
Category: All, Sports, technology