Conyers has donated $6000 to three Bermuda charities as part of their World Rugby Classic hospitality event. The three charities that received donations were the Chewstick Foundation, Coalition for the Protection of Children and the Sloop Foundation.
"Giving back to the community is important to our Firm. We know that this is also important to our clients, which is we why thought it fitting to raise awareness of the meaningful work of these charities at our client event during the World Rugby Classic," the company said.
"We, and our clients, appreciate the funding challenges that many of Bermuda's charities are facing during this current economic climate and are pleased to have also enlisted our clients' support of these worthy causes which focus on youth, education and the arts." said Marcello Ausenda, Director at Conyers Dill & Pearman.
From left to right: Gavin Smith [Chewstick], Deidra-Lee Bean [Chewstick], Marcello Ausenda [Conyers Dill & Pearman], Kelly Hunt [Coalition for the Protection of Children], Dr. Donna Outerbridge [Coalition for the Protection of Children], and Laura Martin-Stout [The Sloop Foundation]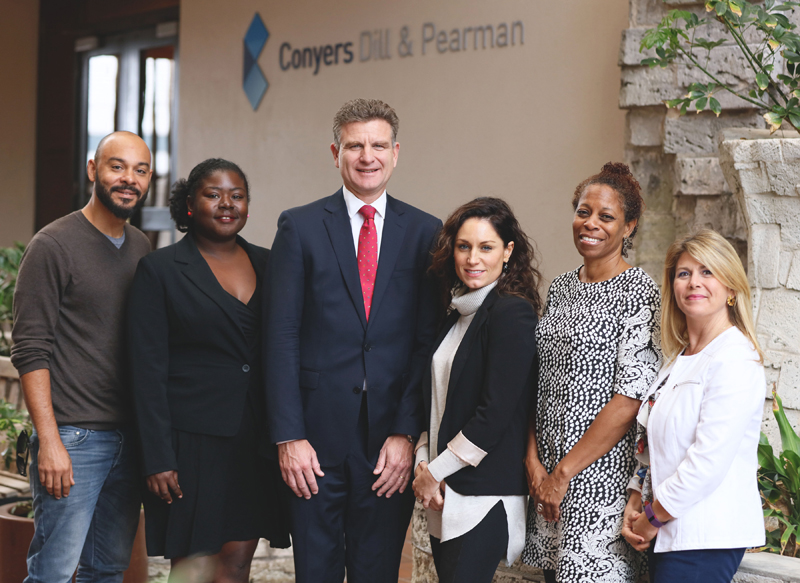 The Chewstick Foundation is a group that uses creativity, events and initiatives to empower and enrich the community. The foundation, whose Front Street headquarters was damaged in a fire in July, will be using the funds for their Culture Hub Fire Relief Fund.
Coalition for the Protection of Children provides encouragement and support to children and families, to ensure that children are given the opportunity to grow up in a safe and nurturing environment. The donation received will support their Breakfast for Every Child programme.
Bermuda Sloop Foundation offers young Bermudians an alternative learning environment on the Spirit of Bermuda, which develops self-confidence and leadership skills. They will use the funds for student bursaries to provide middle school students with the opportunity to experience the programmes that are run on the Spirit of Bermuda.
Read More About