This Thursday, the Bermuda National Trust is launching a free exhibition at Waterville highlighting water colours painted by Edward James between 1861-1877.
James is considered to be one of the finest artists in Bermuda during the period of the US Civil War, and many of his works contain enlightening details of the American blockade at the East End of the island and insights into the life of the community in the middle of the 19th Century.
The Trust owns the largest collection of James paintings in Bermuda, and the exhibition will feature some works that have never before been on display to the public.
The exhibition is in celebration of the late BNT patron Elfrida Chappell who generously donated towards the cost of purchase of "Confederate Blockade Runners Maude Campbell and Hansa in St. George's Harbour, Bermuda, 1864".
The exhibition marks the first in a series highlighting works held in the Trust's collection of paintings and artefacts.
Tioga and Sonoma blockade of St. George's by Edward James from the BNT Collection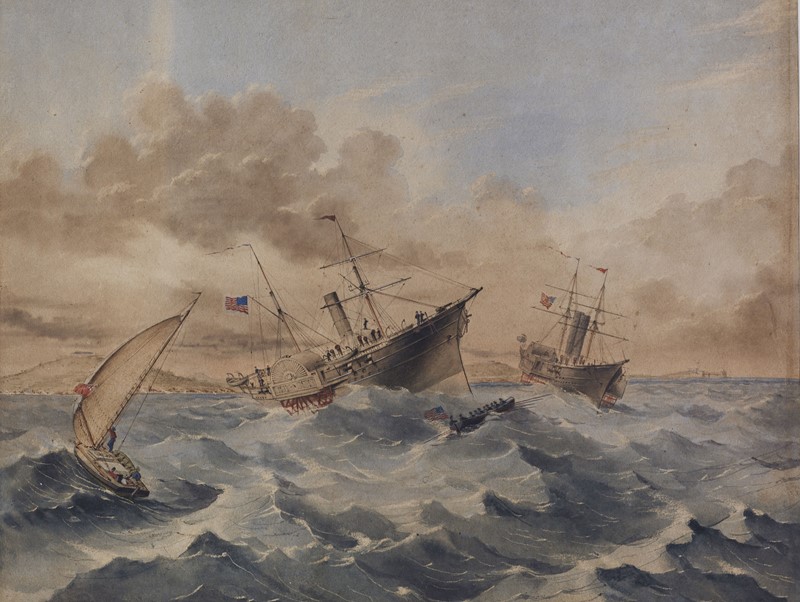 "Thursday night's viewing starts at 5:30pm with opening words at 6pm. Wine and nibbles will be served. Although the viewing is free, donations are welcomed," the BNT said.
In conjunction with the Bermuda National Trust's Edward James Show, award-winning journalist and author, Robert L. Koenig will be delivering a Trust Talk on Bermuda and the US Civil War.
His talk will cover various vignettes from the era, including blockade running, the rivalry between the embattled US Consul in Bermuda and the Confederate agent, the Trent affair which could have brought Britain into the war on the Southern side, and a famous Confederate spy's visit to St. George's.
To reserve a seat for Sunday's talk, please contact Dörte Horsefield dhorsfield@bnt.bm. Both the Edward James exhibition and Trust Talk with Robert L. Koenig will be held at 'Waterville' on Pomander Road in Paget. Visit bnt.bm for more details.

Read More About
Category: All, Entertainment