Morgan's Point Ltd., the developer of Caroline Bay, Bermuda announced that they have launched sales for The Cove, a Ritz-Carlton Reserve Residence, with prices starting at $2.5 million.
"The first phase of the destination – which is located in the west end of the island, on the peninsula formerly known as Morgan's Point in Southampton and Sandy Parishes – includes both a superyacht marina and 35 waterfront residences," the announcement said.
"Once the site of a U.S. Navy annex during World War II, Morgan's Point was left unutilized for over two decades until Bermudian developers, Craig Christensen, Brian Duperreault and Nelson Hunt, saw the potential of what the 182-acre site could be."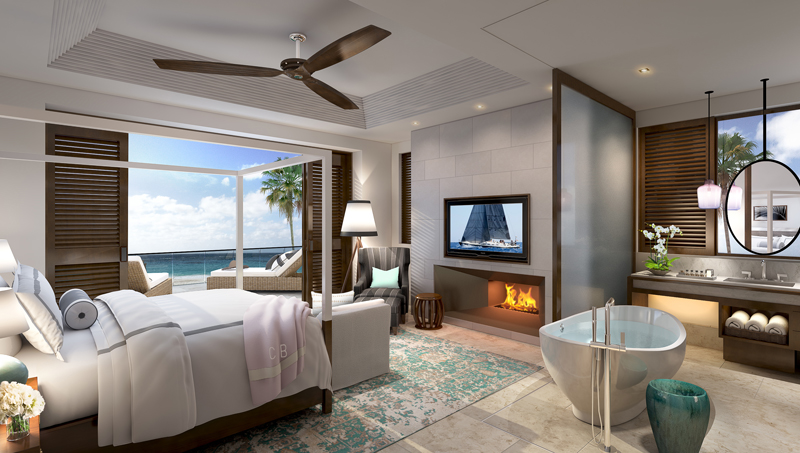 "The developers' vision is now becoming a reality. Caroline Bay, Bermuda will be a one-of-a-kind destination for the island and will be home to:
"Caroline Bay Marina offering transient slips for up to 33 superyacht berths; 80 berths exclusively for Ritz-Carlton Reserve Residence owners; the Caroline Bay Yacht Club; state-of-the-art power; marine tech docking systems and environmentally secure sewage waste systems
R"itz-Carlton Reserve Residences [149 in total], Reserve hotel [79 rooms] and three restaurants
"Amenities including two pools; beaches with views galore; a world-class spa; a kids club and water sports and activities that will never bore
"The groundbreaking for The Cove occurred this past June 2016 and the first model home is expected to be completed by September 2017. Just recently, the developer along with Coldwell Banker Caroline Bay, the exclusive sales and marketing real estate firm, hosted a sales gallery opening event.
"The marina, on the other hand, will be ready sooner, and is expected to be complete in time for the 35th America's Cup in June 2017 that is being hosted in Bermuda. Spaces are still available for superyacht bookings for the races at here.
"The Cove, a Ritz-Carlton Reserve Residence, is designed by SB Architects, a world-renowned firm with more than 50 years of experience in creating homes and hotels in destinations.
"The residences include open floor plans with expansive kitchens, dining areas and generous spaces for indoor and outdoor living. Every home is situated to take full advantage of the mesmerizing pink sand beaches and azure blue ocean views, while still offering a sense of privacy with retractable glass walls. World-renowned firm HBA Interiors is responsible for the interior design.
"Residences range in size from 1,939-square-foot, two-bedroom homes with 490 square feet of outdoor living and go up to 3,174-square-foot, four-bedroom penthouses with up to 1,059 square feet of outdoor living and private elevator entry.
"In addition to the superyacht marina and destination amenities, residence owners will receive a complimentary one-year membership to Port Royal Golf Club, a Troon Privé club just across the street [literally] from Caroline Bay. What's more, as a member of Port Royal, owners will have the privilege to play at any Troon Privé club around the world at member rates."
Mr Christensen said, "The last new development that Bermuda saw was the Fairmont Southampton and that was completed in 1972. I knew that Bermuda was ready for its come back and Caroline Bay was going to serve as the catalyst of the revival. With our crystal clear waters and bluest skies, people will start questioning why they haven't been to Bermuda sooner."
"Caroline Bay is a major milestone for Bermuda, and will not only completely transform the Morgan's Point peninsula, but the island in general," continued Mr Christensen.
"I have lived on this island my entire life; we are only 22 miles long and what this development will do for Bermuda will greatly impact our history. It is what our island needs – we are providing jobs for the locals and at the same time, helping with Bermuda tourism. I am incredibly excited to bring Caroline Bay, Bermuda to life."
Pricing starts at $2.5 million and goes up to $3.9 million for the penthouses. For more information please contact Sandra Christensen at Coldwell Banker Caroline Bay at sandra@carolinebayrealty.com or by calling 441-247-1860.

Read More About