Rego Sotheby's International Realty [RSIR] recently experienced the cultivation of its next generation of agents, as four members of their administrative staff transition into becoming full time real estate agents in various areas across the company.
Two new agents have evolved within the company's Rentals and Property Management Department, including Allison Settle-Smith and Ziria Noriega Steinhoff.
A spokesperson said, "Ms. Settle-Smith, who began her career at RSIR as a property management intern and an agency administrator has now transitioned into the role of a rental agent focusing in both short-term and long-term rentals.
"She also played a key role in launching the company's new platform to assist those looking for property rentals during the upcoming America's Cup. Ms. Steinhoff, a property management administrator, is now able to fully serve landlords and tenants.
"While she will remain in her administrative role, she may transact as a real estate agent listing and showing properties."
Rachael Correia, Ben Rego, Allison Settle-Smith, and Ziria Noriega Steinhoff: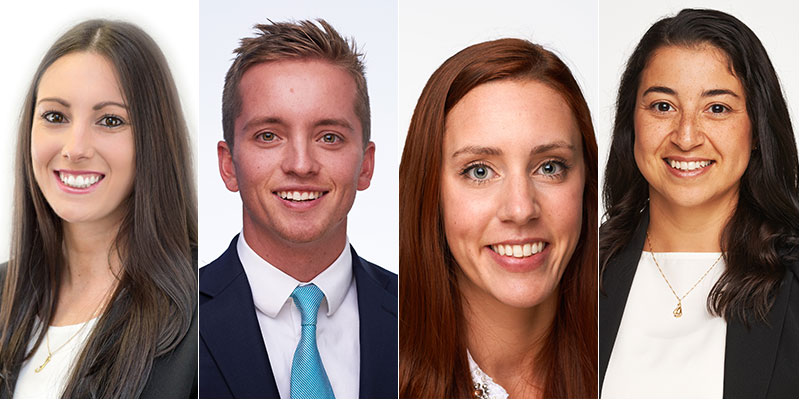 "Rachael Correia has transitioned from her role as receptionist and office administrator to become an agent within the Commercial Department.
"Ms. Correia works alongside the commercial team, focusing her efforts within the City of Hamilton, as well as other commercial areas around the island including Mills Creek, Somerset, and Ferry Reach."
Ms. Correia said, "I interact with a multitude of clients, both Bermudian and International, dealing with sales and rentals.
"I enjoy the challenge and success in finding the right location for my clients. Whether in searching to relocate their business or engaging in new business concepts within the City of Hamilton or throughout the island."
"Hoping to follow in his family's footsteps, Ben Rego has also obtained his real estate license and moved on from marketing coordinator to his new role as a sales associate focusing in residential property sales.
"Mr. Rego, who has held the position of marketing coordinator for just over a year, began his real estate career at Gibson Sotheby's International Realty in Boston, working in the marketing department and assisting some of the top agents in the country. Since his return to Bermuda, he has continued his efforts in real estate marketing.
"Real Estate has always been a passion of mine. I have thoroughly enjoyed the work I have done in the marketing department and it has been incredibly helpful working alongside the RSIR agents and understanding their different approaches to selling or finding a home.
"I look forward to utilizing my marketing expertise to benefit my clients".
RSIR Partner Penny MacIntyre said, "Here is where a dynamic relationship occurs working amidst success experienced agents who in turn get a fresh perspective on their industry as new agents embrace social media and other creative methods to build their careers."

Read More About