The Association of Bermuda Insurers and Reinsurers [ABIR] said while they fully support the introduction of payroll tax progressivity, they urge the Government to "develop existing sources and new alternatives to the payroll tax as a means for raising revenues" as an "overemphasis on the payroll tax makes Bermuda operations even more expensive than alternative insurance hubs."
Changes To Taxes Revealed In Budget
Introducing a new Financial Services Tax, changes to the payroll tax system, and raising the maximum taxable salary level from $750,000 to $900,000, were a few of the financial initiatives revealed as Finance Minister Bob Richards delivered the 2017 Budget.
In explaining the changes to the payroll tax system, the Minster said, "In the situation where an employer is currently passing on the maximum amount of 6% to an employee, an employee earning in the lowest band [1] will receive a tax cut of up to $600 p.a. in 2017/18.
"The next band [2] provides for a tax cut of $600 – $720. Band three provides for a tax decrease of $720 to an increase of $1,713. The top band provides for an increase of $1,713 to $29,000."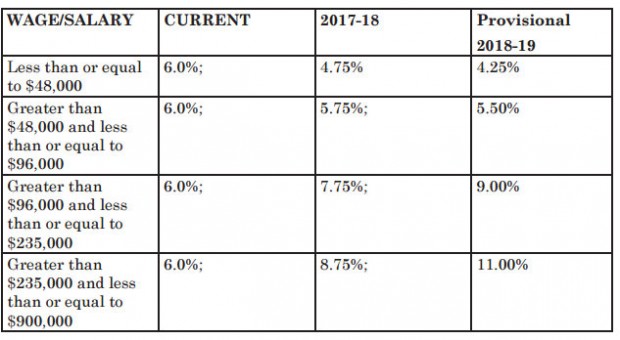 ABIR Comments
ABIR Chairman, Mr. Kevin O'Donnell said, "ABIR respects the Bermuda government's commitment to strengthening the Bermuda economy and reducing the debt to place the country on a firm financial foundation.
"ABIR fully supports the introduction of payroll tax 'progressivity'—an applaudable effort to build some equity for taxpayers in the current system, and right away.
"The change in overall tax rates is significant, and as with any major tax reform, should be introduced via a glide path over time so as not to cause a sudden increase in the payment of taxes by one or more sectors.
"In an increasingly connected world, every effort must be made to make sure Bermuda remains a competitive job market.
"ABIR urges the government to develop existing sources and new alternatives to the payroll tax as a means for raising revenues.
"Having a diverse revenue base will helpfully ease pressure on the payroll tax for everyone's benefit. An overemphasis on the payroll tax makes Bermuda operations even more expensive than alternative insurance hubs."
You can click here to view our live blog, and click here to view all our coverage of the 2017 Budget.

Read More About