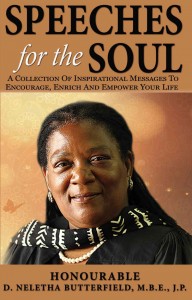 A new book titled Speeches for the Soul by Neletha Butterfield offers a collection of inspirational messages to "encourage, enrich and empower your life."
The well known educator and former Cabinet Minister said that many years of her life have been dedicated to informing others through alternative education, and she feels these speeches can help to enlighten individuals who read them.
"For the first time, a collection of Butterfield's most powerful speeches has been compiled to push you to new heights," the book's description said.
"Speeches for the Soul also serves as a coursebook for new motivational speakers and a rich source of documentary history for those interested in the lives of people of the African Diaspora."
When asked what inspired her to write, Ms Butterfield told Bernews, "I had the pleasure and opportunity to meet some great women of influence in my life's journey. To read and tell their stories inspired me to put together this collection of speeches to highlight some of my contributions to my homeland Bermuda.
"Many years of my life have been dedicated to informing others through alternative education and computer training. I feel these speeches will enlighten individuals who read them.
"The speeches will encourage the readers to reflect and remember things that were shared about the various issues of the day that affected us individually and as a country. Through these speeches, souls and minds will be touched.
"My writings were always to uplift those who listened and received them by acknowledging how they were encouraged and overwhelmed by my presentations and often asked how they can be assisted in making some changes in their lives.
"Just recently, I sent a printed copy of one of my speeches entitled "Am I my Brother's Keeper" to a former student of mine who is currently incarcerated and graduated while in prison with his GED, asked, 'Any more of those speeches Ms. Butterfield?' I replied yes, in a book and I will be very happy to send you an autographed copy.
"I am very happy and pleased that from 1989 until 2016, I kept these speeches, knowing that someday I will leave a legacy of writings for my grandchildren and great grandchildren to read and appreciate.
"There is a wealth of information to enlighten your spirits and enrich your souls as I pass on my knowledge to help those along life's journey through – Speeches for the Soul."
On Thursday evening, in celebration of Black History Month, the Bermuda Business and Professional Women's Club will be hosting a book launch for Ms Butterfield, who is President of the Club.
At this event, members of the club such as Dame Jennifer Smith and Dr. Dorothy Matthews-Paynter will do short readings in tribute to the author.
Club Vice-President Mrs. Rhonda Woods Smith said, "We are extremely proud of our President's accomplishments and wish her all the best in her future endeavours as she continues to encourage, enrich and empower our souls, in particularly the souls of our young women."
Ms. Butterfield said that she will be returning to Jamaica at the end of March to present her book to a friend of hers – the Honourable Portia Simpson-Miller, Jamaica's Opposition Leader.
Ms Butterfield spoke at the former Prime Minister's PNP Women's Movement Conference in July 1996, and the speech entitled "It's Time, It's Time, It's Your Turn Now" is one of the speeches included in this book.
She will also be presenting her book to Jamaica's Minister of Culture, Gender, Entertainment & Sport Olivia Grange and Minster of Labour & Social Security Shahine Robinson, both of whom she had the pleasure to work with when she was a Government Cabinet Minister.
The book is available now at the Bookmart at Brown and Co, C.A.R.E. Learning Centre and Amazon.com. There will be a book signing at the Bookmart on Saturday, February 25 from 12.00pm to 3.00pm.
Her next book, Workshops For The Soul, is scheduled to be released in May 2017.

Read More About
Category: All, Entertainment, News