Yesterday [Feb 7], Premier Michael Dunkley joined fellow Overseas Territories leaders for a full day of meetings at the UK Joint Ministerial Council on European Negotiations [JMC - EN].
"The critical discussions were chaired by the Minister for Exiting the European Union, Robin Walker and Foreign Office Minister Baroness Anelay," a Government spokesperson said.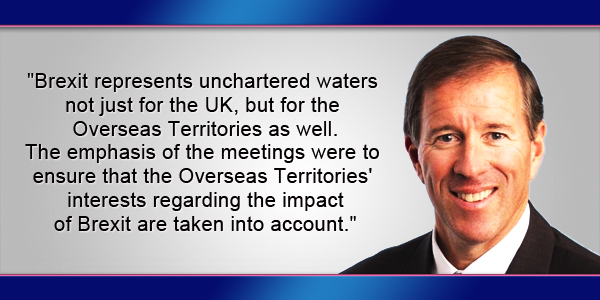 "Following yesterday's meeting Premier Dunkley said, "Brexit represents unchartered waters not just for the UK, but for the overseas territories as well. The emphasis of the meetings were to ensure that the overseas territories' interests regarding the impact of Brexit are taken into account.
"Overall I thought yesterday's discussions were very constructive and provided good insight on a potential way forward. I was very encouraged by the contributions and feedback provided by my OT counterparts.
"And following this week's events, we have undertaken to continue to work together and keep the lines of communication open to ensure that our respective jurisdictions have a significant voice and place at the table as the Brexit negotiations and discussions evolve."
Overseas Territories Leaders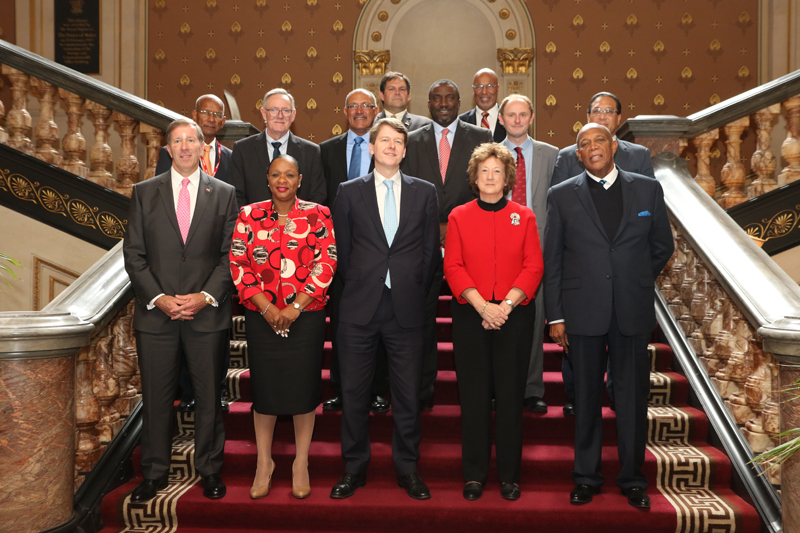 Today [Feb 8] the Premier and other OT leaders will have a courtesy visit with British Prime Minister Theresa May.
The Premier will also meet with the Minister of State for Security Ben Wallace to address the Amendments under the Criminal Finance Bill drafted by the Labour Opposition to impose public central registers within the Overseas Territories through an Order in Council.
Premier Dunkley who returns to Bermuda on Thursday, is accompanied in the UK by the Deputy Premier and Minister of Finance Bob Richards and the Secretary to the Cabinet Dr. Derrick Binns. The London visit is facilitated under the direction of Kimberley Durrant, UK Representative and Director of the London Office."
Minister for Exiting the European Union Robin Walker said, "When the UK leaves the European Union the strong relationship we have with the Overseas Territories and the important mutual trade and business links we share will continue.
"The UK Government is committed to engaging with our friends in the Overseas Territories as we prepare to exit the EU, and ensuring that we get a deal that works for everyone. In this context, we discussed how the Territories can contribute to a truly global Britain."
Meetings in London: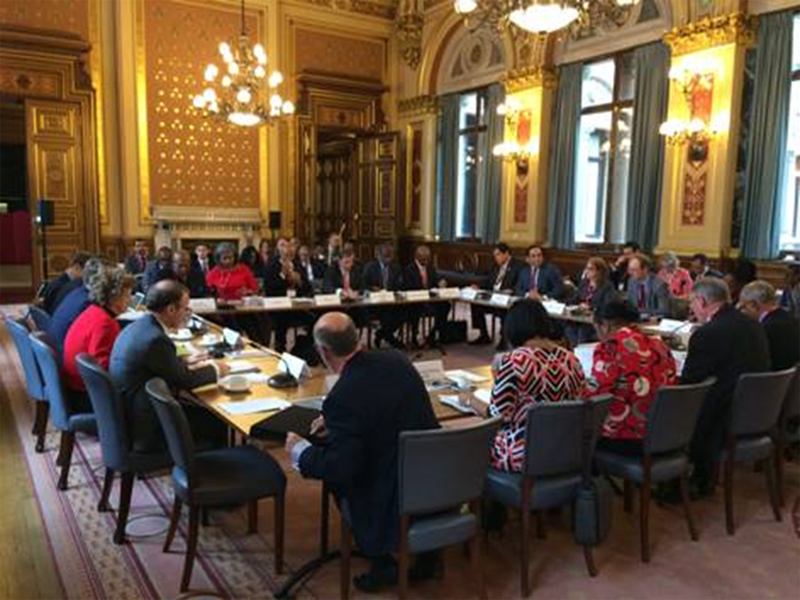 Minister of State at the Foreign and Commonwealth Office The Rt. Hon. Baroness Anelay said, "The Overseas Territories are integral to the UK Government's ambitions to create a more outward looking United Kingdom.
"We are committed to taking their priorities into account as we prepare for negotiations to exit the EU.
"I have discussed this very issue during my visits to the Overseas Territories and am keen to build on this early positive engagement to ensure the deal the UK Government ultimately negotiates works for all."
The first Overseas Territories Joint Ministerial Council on European negotiations was attended by leaders and representatives from the following territories:
Anguilla
Bermuda
British Virgin Islands
Cayman Islands
Falkland Islands
Montserrat
Pitcairn Islands
St Helena and Ascension Island
Tristan da Cunha
Turks and Caicos Islands

Read More About