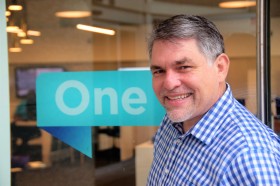 One Communications has rolled out almost sixty miles of super-fast fibre optic cabling reaching nearly 1,400 homes, with the company saying that "installing its FibreWire network is part of a $20m investment in its infrastructure that will dramatically improve both internet speed and 4G LTE coverage."
CEO Frank Amaral [pictured] said: "Almost 90 percent of our shareholder base is Bermudian, which is just one aspect of our business that motivates us to ensure we continue to make improvements.
"The One team is determined to drive our company forward in order to offer more and better services.
"Bermuda deserves a world-class network and it is our every intention to provide exactly that, so we are proud to be producing a Bermudian-built infrastructure that achieves those objectives."
Work in the project began last year and it is anticipated that the Island wide launch of FibreWire services will be completed by early 2018.
One's FibreWire network will dramatically increase internet speeds and bandwidth capacity during peak usage times, which are known concerns for customers, said Mr. Amaral, adding: "Replacing the current infrastructure including, if needed, wiring right into customers' homes, also means greater reliability and uptime for the customer."
The company has taken steps to ensure people are directly informed when work is going to happen in their neighbourhood through a series of notifications by email and outbound calling campaigns.
"The FibreWire work is part of a wider package of improvements that the company is implementing– its 4G LTE mobile coverage of the entire Island will be complete later this year giving customers ultra-fast mobile data speeds similar to what they have already been enjoying in the City of Hamilton," said Mr Amaral.
He said One Communications has also pledged to "radically overhaul" its TV product as well as customer care, which is now available 24/7 for mobile, cable TV and Internet subscribers.
"The complaints and general feedback from our customers are being heard and I believe that through this very substantial investment in both our products and customer care services we will address many of those concerns.
"Over the coming months, we will be announcing other initiatives that I am sure will further address any remaining issues that people have raised.
"These are going to be exciting times for One Communications and our customers will benefit greatly."

Read More About
Category: All, Business, News, technology