As the United Kingdom leaves the European Union, the "unique relationships" that the Overseas Territories have with the EU "will also change," the UK Government said in a White Paper published today [Feb 2].
The day after the UK Parliament voted — 498 votes to 114 — to give Prime Minister Theresa May the power to trigger Article 50, the UK Government released their formal policy paper setting out how the UK proposes to leave the EU. Exit negotiations can begin once the UK has given notice under Article 50 of the Lisbon Treaty.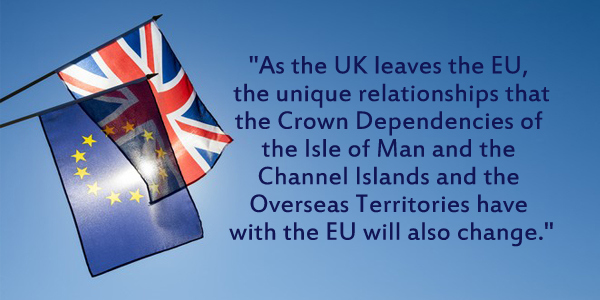 In publishing the document, the UK Government said, "This White Paper provides Parliament and the country with a clear vision of what we are seeking to achieve in negotiating our exit from, and new partnership with, the European Union."
As it pertains to UK Overseas Territories, the paper says, "As the UK leaves the EU, the unique relationships that the Crown Dependencies of the Isle of Man and the Channel Islands and the Overseas Territories have with the EU will also change.
"Gibraltar will have particular interests, given that the EU Treaties apply to a large extent in Gibraltar, with some exceptions [for example, Gibraltar is not part of the Customs Union].
"We have ensured that their priorities are understood through a range of engagement including new fora dedicated to discussing the impact of EU exit: the Joint Ministerial Council on EU Negotiations, with representatives of the governments of the Overseas Territories, a new Joint Ministerial Council [Gibraltar EU Negotiations] with the Government of Gibraltar, and formal quarterly meetings with the Chief Ministers of the Crown Dependencies.
"We will continue to involve them fully in our work, respect their interests and engage with them as we enter negotiations, and strengthen the bonds between us as we forge a new relationship with the EU and look outward into the world."
Bermuda was recently unanimously elected by Governments of the Overseas Territories to the role of Chairmanship of the United Kingdom Overseas Territories Association [UKOTA], and according to the Cabinet Office, Bermuda's role will be to "ensure that all Territories secure the highest level of dialogue with the UK Government on issues of priority, such as the UK's European Union exit negotiations and its effect on the OTs."
The 77-page White Paper follows below [PDF here]:

Read More About