Governor John Rankin said he welcomes the statement by the Police Commissioner sharing the Policing Plan for the upcoming House of Assembly sessions, saying it is "important both that any protests are peaceful and conducted lawfully, and that the House of Assembly is able to meet and carry out its business."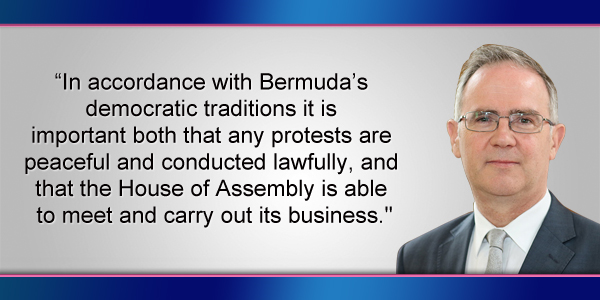 Yesterday, Commissioner Michael DeSilva outlined the policing plan for when the House of Assembly resumes, saying there will be no access to the grounds of the House of Assembly by members of the public as "police wish to safeguard any interference with the Legislature, including blocking members from access."
Mr Rankin said, "I welcome yesterday's statement by the Commissioner of Police sharing the Policing Plan for the upcoming sessions of the House of Assembly.
"In accordance with Bermuda's democratic traditions it is important both that any protests are peaceful and conducted lawfully, and that the House of Assembly is able to meet and carry out its business.
"I trust that any differences of view in Bermuda can continue to be discussed and settled in a calm fashion in the interests of all of its citizens."
23-minute video of the Police Commissioner's full press conference on the matter:
The House of Assembly is scheduled to sit tomorrow [Feb 3], having been closed since December 2nd 2016, a day which saw protests over the proposed airport development, MPs blocked from entering, and the police pepper spray some of the protesters.
While the House will resume as scheduled this Friday, debate on the Airport Bills will be deferred to the following Friday, 10th February.
In announcing the delay of the debate, Speaker of the House Randolph Horton said, "Government, Canadian Commercial Corporation [CCC] and Aecon have agreed to release and to provide hard copies of the Draft Project Agreement to all parliamentarians in advance of the Legislation's debate in the House of Assembly.
"The business of the House of Assembly will resume, as scheduled, on Friday, 3rd February, 2017. However, debate on the Airport Development Concession Act 2016 and the Bermuda Airport Authority Act 2016 will be deferred to Friday, 10th February, 2017, to allow Members of the House sufficient time to read through and consider the Draft Project Agreement in advance of the debate."
Read More About