Emirates Team New Zealand has been one of the last teams to set up the operations at the Royal Naval Dockyard, and the construction of the team base is well underway.
The teams new home is located within the future America's Cup Village and will provide the hub for Emirates Team New Zealand sailing operations.
The base will be also made up of a working tent for the America's Cup Class race boat, a gym, the design and support team offices and another tent for the two wing sails and waterfront hospitality area.
A small group of Emirates Team New Zealand members moved to Bermuda several weeks ago to start the construction of the facility and they said they are taking on an enormous amount of work to set up the base in such a short time.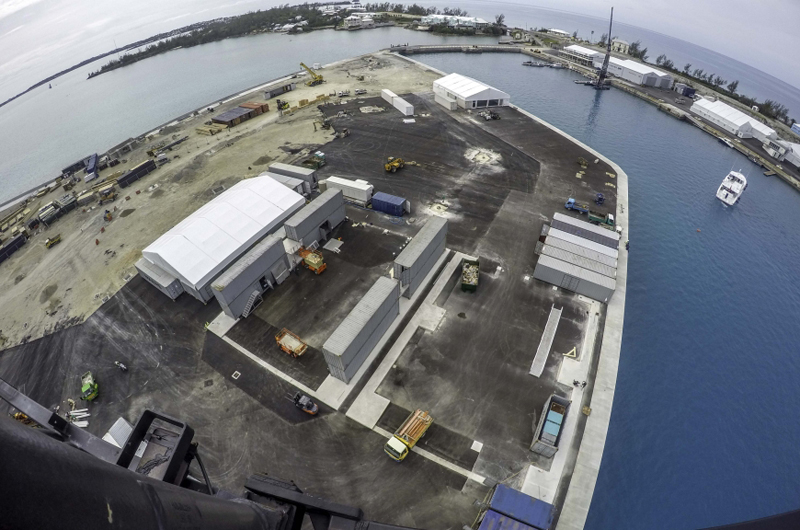 Andy Nottage, Emirates Team New Zealand Logistic & Base Manager, explained, "It has been a demanding couple of weeks for everyone involved in the base construction here in Bermuda.
"The stormy weather hasn't helped and the guys have battled on through the rain and relentless winds to erect the crane and get the administration tent erected."
"Life isn't easy without utilities yet but we are not letting it halt progress with our own water tanks and a small generator that is working flat out around the clock.
"One of the best aspects of doing our job up here has been the support of the Bermudian locals who continue to go out of their way to help us everyday."
As with anything in an America's Cup campaign the clock keeps ticking, and the team in Bermuda are racing against the clock to be prepared for the arrival of another shipment of containers and eventually the race boat and it's subsequent support facilities.
"The team members in Bermuda are doing an excellent job and they are making huge progress every day. Andy [Nottage] has great experience in operations and logistics and is a tireless worker, he'll be able to comply with the planned schedule despite the unexpected obstacles," said Emirates Team NZ COO Kevin Shoebridge.
Meanwhile in New Zealand the sea trials proceed as scheduled and the team is fully focused on testing and training onboard 'New Zealand' the team race boat.

Read More About